The information in this post might be outdated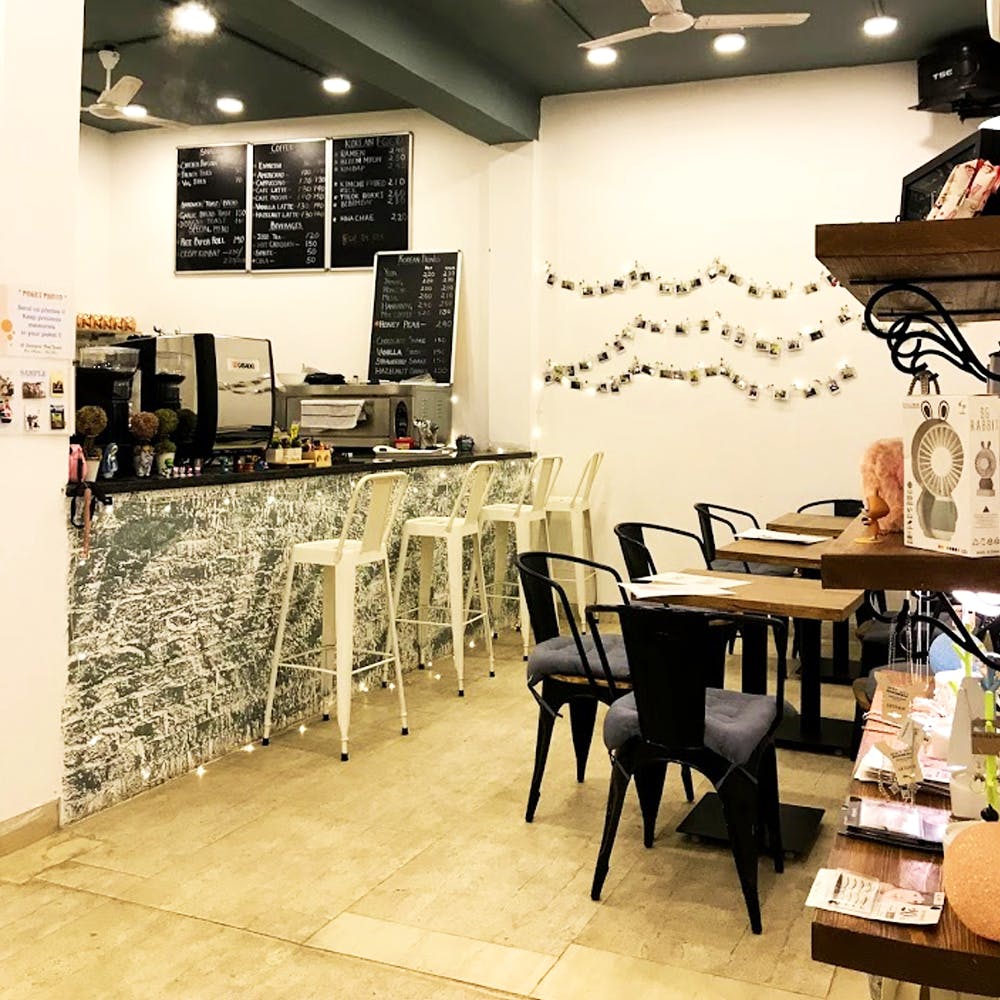 Eat Korean Food, Get Your Nails Done & Shop At This Adorable New All-White Cafe
Shortcut
Dongne The Town is Humayunpur's newest Korean cafe. It offers fuss-free Korean food, nail art services and has a small shelf full of cute Korean knick-knacks that you can buy.
What Makes It Awesome
The Korean word dongne, roughly translates to the town or village in English, and, in this cafe's context (like a dongnge cafe), it means your town/neighbourhood cafe. The folks at Dongne want to offer people a friendly space where one can grab a good cup of coffee, meet new people, pamper themselves and relax—and that's exactly what the cafe's vibe is.
It has simple all-white interiors, fairy lights and comfortable seating, so you can chill with your friends here for hours. Since it's the Christmas season, Dongne is currently done up beautifully with lots of lights, a lovely Christmas tree and a background score of carols kept us company throughout our meal here.
Their menu is full of authentic Korean dishes and drinks. For beverages, they've got options like Jamong (grapefruit tea), Mesil (green plum tea), Honey Pear Iced Tea, a variety of coffee, Yuja (citrus tea) and more. On their food menu, expect Korean favourites like Kim Bap (Korean sushi), Bibim Bap, Kimchi Fried Rice and Tteokbokki (stir-fried rice cake), to name a few. We ordered the Bibim Bap, which came with sticky rice, boiled veggies (carrots, mushroom, spinach and lettuce) and an in-house sauce. This dish in itself is very healthy and super-filling, but if you're too accustomed to the Indian palate, you might find it a bit bland.
On the other hand, we absolutely loved the Chicken Rice Paper Rolls. Dongne does these fresh, with crunchy, seasoned veggies, juicy chicken chunks and serves the rolls with a sweet chilli dip. Their portions again, won't disappoint.
Moving on to the nail services (get ready for an abrupt shift of tone), they offer everything from nail cleaning (INR 200) and nail overlay/extension (starting at INR 1,500) to toe nail refill (INR 600) and toe nail extensions (INR 1,500).
What Could Be Better
We wish they offered more dessert options. At the moment, they only have Hwachae on their menu (a cold fruit dessert) which in itself sounds great but who doesn't love variety (especially, when it comes to dessert)?
Pro Tip
The folks at Dongne offer another sweet additional service—they can print a Polaroid picture for only INR 60/photo. All you need to do is—send them the photo(s) and you'll have a cute pocket-sized picture ready in no time.
Also, they're offering a 20% Christmas discount on a few nail services, and a free drink with one Korean dish till Dec 25.
More Information
Dongne The Town
Nearest Metro Station: GREEN PARK
Comments