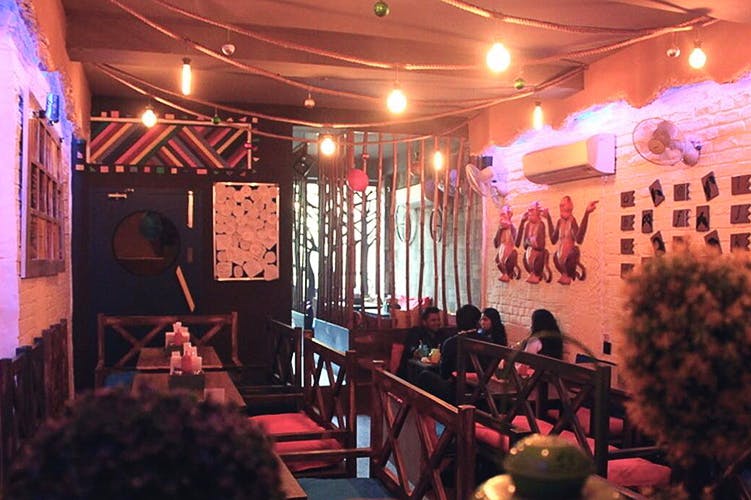 Delivery Available

Wi-Fi Available

Nearest Metro Station:

Durgabai Deshmukh South Campus
Echoes Satyaniketan Is Run By Differently-Abled Staff & Has Delicious Grub
What Makes It Awesome
Echoes is a cafe in the crowded Satyaniketan market and is always bustling with students. They offer pasta, pizza, grills, Chinese snacks, sandwiches and wraps, and it's all served by staff completely made up of differently-abled peeps.
Being primarily a student haunt, Echoes has kept its menu pretty simple (yet varied) with the usual momos, pasta, pizza, wraps, biryani, butter chicken and more. However, you will find some unique dishes like the Behl Breakfast Tray, Raju Tiffin Service, and Amsterdam fries.
For dessert, look no further than the waffles. The portions are great. And if you're feeling thirsty, the oh-so-heavy shakes will come to the rescue.
The entrance to the cafe is marked by a single blue door on the first floor. The interiors are a mix of things: White brick walls played off with motivational posters on one wall, the alphabet sign language on another and a melange of colourful bricks on the third.
It is a small space, but done up well with both high and low seating and plenty of happy colours. There's lots of wood, giving it a hilly sort of feel. If you fancy a smoke, head straight to the back to their cutesy tiny balcony overlooking the market.
What Could Be Better
The cafe is super-popular with the college kids here, so you might have to wait a bit to get a seat. And although there are dedicated parking spots here, finding them is not always easy.
Pro Tip
They have ordering pads where you write down the code of your dish, the quantity, any customisation preferences, tear it off and hand it to your server. You can also call for him by pressing a button next to your table, which lights a coloured bulb near the counter.
If you want to further communicate, they have a stack of cards handy on each table with common requests such as 'water', 'bill', 'call the manager', 'fork', 'spoon' and the most important one: 'Thank you.'
Comments
Delivery Available

Wi-Fi Available

Nearest Metro Station:

Durgabai Deshmukh South Campus