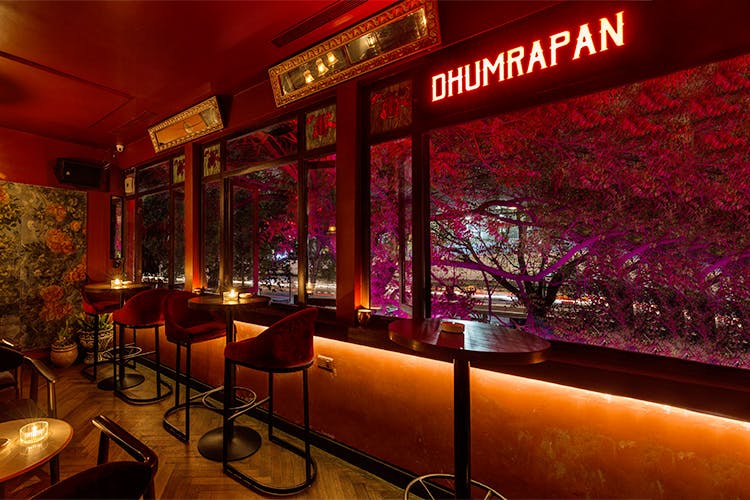 Ek Bar Has Completely Changed & Here's What It's Like Now
Shortcut
The Def Col favourite, Ek Bar, has undergone a complete makeover, and morphed from a place with a dinner & great cocktails vibe into a straight-up Independence-era bar with only small plates.
Welcome To The Raj
The place has undergone a transformation that any hardcore Delhi bar baby will love. Gone is the prettily lit, pop-colour infused vibe that welcomed all sorts. The space is now dark (but not dingy), with an adults-only vibe about it. With an Indian-from-the-British-Raj twist, the space is rife with historical-etching inspired wallpaper and classic photos from the time.
The furniture will remind you of living rooms and pubs of the time, with subdued, darker hues fully edging out the bright pinks, blues and purples we've always associated Ek Bar with. The high chairs, upholstered with aged flowers and velvet, will take you back a good fifty years in one sitting. It's a change, but an interesting one.
Eat A Little, Drink A Lot
The food philosophy at Ek Bar has been tossed out and created straight from scratch. From being a place where a full meal with all it's trappings was available to you, Ek Bar has now become a small-plates-only set-up, where fantastic food is on the menu, just in beside-your-drink quantities.
Head Chef at the outlet Aabhas Mehrotra explained why (especially at our disappointment at the lack of dessert). "People were coming in for dinner, and for a very different kind of evening. The essence of Ek Bar was getting lost. That essence was that it was a bar first. So now, we no longer do dinner because want people to choose it for the drinks, and the accompaniments on the side."
Since now there's no reason to go unless you're down for an evening of drinking and heady cocktails, The Beeda Tonic is a great drink to try. This drink called Es-Sence also has real staying power – it's a simple lime and sugar drink that comes with an almond, rose or strawberry essence in an old-school perfume bottle beside it. You have to spray it on your wrist and sniff it before take a drink – it's the blend of the notes that creates the final taste. Grab a small plate too – their Buff Chilli Ularithiyathu served with Malabar Parantha, Dohra Seekh and Make In India popcorn shrimp are all extraodinary, full of flavour, and well-prepared and seasoned.
A last interesting thing? There are tampons and condoms in the bathroom, so they're clearly thinking ahead.
So, We're Saying...
Go here if your agenda includes drinking, not dinner. It's got a lovely, old-school vibe.
More Information
Ek Bar
Wi-Fi Available

Nearest Metro Station: LAJPAT NAGAR
Comments