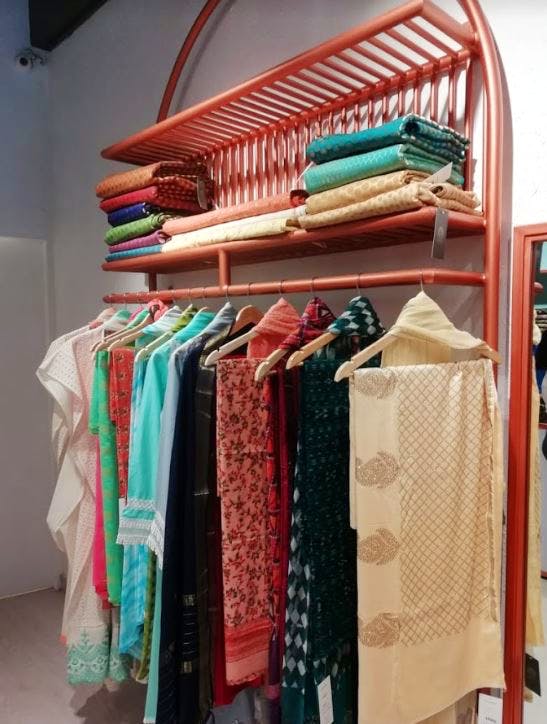 Shop For Handloom Saris, Ikat Fabrics & Office Wear At Eros In Gurgaon
The Eros City Square Mall in Sector-49, Gurgaon is perfect spot to chill, eat, and shop at! Apart from the iconic drive-thru McDonald's outlet, Eros is home to some really cool shopping stores where you can get a variety of clothes, accessories and fabrics for women, men, and kids.
You can reach Eros via the metro, and then take a cab/ auto. The nearest metro station to the mall is Sector 55-56 station (rapid metro).
If you're not in the mood to head to MG Road, hate crowd or want to shop near-by, check out these stores!
ARGGHA
If you're on a hunt for cotton suit sets and fabrics, drop by ARGGHA on the ground floor of the Eros Mall. Their store is full of pretty and comfortable fabric with block print patterns (like bagh, dabu and bagru prints), vibrant ikat, sequins and also warak patterns. You can shop for semi-stitched suit pieces starting at INR 1500, or get your custom suit stitched from them.
If you like a pattern and just want something like a dupatta or a stole made out of that fabric, then you can buy the fabric starting at INR 185/meter for plain fabrics and INR 245/meter for others.
Sisters
Until a few months ago, the Sisters store had a collection that was all white. So, the store was just full of white everything, including white tee shirts, kurtas, pants, patialas, slips and more. The collection here starts at INR 200, and all of the garments are reasonably priced. The Sisters store stocks apparel for women and kids, but men can try their luck at finding kurtas here. Their collection is available in a variety of fabrics, ranging from cotton to nylons. Recently, the store has started packing in more colours, but I personally liked it a lot better when it had all white everything.
Faburra
A new addition to Eros City Square is this store! Faburra on the first floor is a small store that is packed with beautiful cotton, chanderi, and linen dresses starting at INR 1800, and suit pieces and hand-loom saris starting at INR 1600 (my personal fav!). You can get your own customisations with buttons, borders, embellishments, etc. done to the dresses.
You must check out their collection of handloom saris that are made out of banana fiber, that you can pre-order by calling them. Fabbura also stocks cotton printed juttis/mojaris and also a vibrant and floral range of handbags.
Young Fashion
The Young Fashion store has an awesome collection of airy tops and lowers in solid colours. The store is a must-visit at Eros as here you can shop for everything from casuals to semi formal clothing. Their collection is mostly available in white, blue, black and grey (yep, that's their palette and the store looks amazing). Apart from pants, jeans and jeggings, (lowers starting at INR 400) you can also find dresses (starting at INR 350) and long gowns here (starting at INR 500). They also have apparel for kids and accessories for both kids and women.
Little Burgundy
Little Burgundy is a huge store and has really nice formal tops and leggings (the collection starts at INR 300). You can find it on the ground floor of the Eros City Square mall. They largely do women's and kids' wear, and you're certain to find stuff worth buying here. I recommend you browse through their collection properly before you buy, as the store is huge and has a lot of stuff in solid colours that are perfect for office wear.
Comments