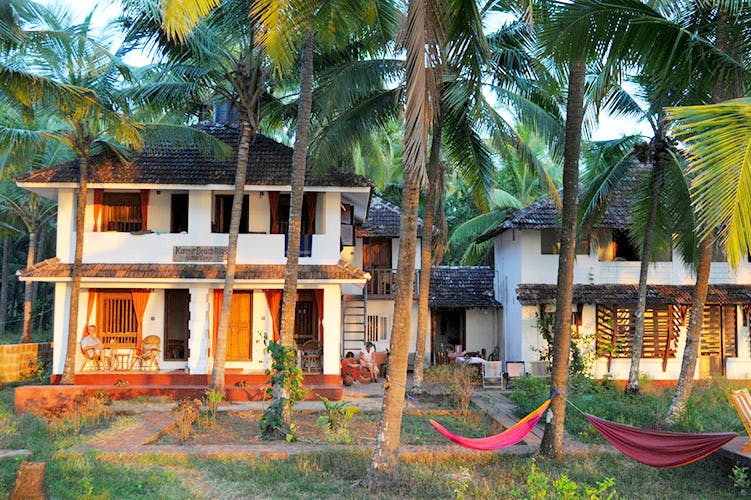 Escape From Reality at the Kannur Beach House Homestay
Shortcut
If you feel like spending time in an ancient and beautiful homestay on a pristine beach beside a small narrow river, with tasty home-cooked food, then look no further than Kannur Beach House.
A hidden gem
We never thought that such a gem really existed, tucked away in a secluded and unspoiled beach location, till we came across the Kannur Beach House. Located just outside Kannur, the homestay is run by Rosie and Nazir, who used to work in Singapore until they found and bought this ancient house, and renovated it without compromising on the authentic and traditional feel.
What is it like?
Rooms are clean, well-furnished, with attached toilets, are comfortable and have fabulous views of the beach from the upstairs rooms and balconies. The food is a delight, with many varieties of local vegetarian and non-vegetarian dishes. The thatch-covered long dining table in the open courtyard was the centre of so many soulful discussions with fellow travellers and the hosts at mealtimes.
What shouldn't I miss?
During your stay the must-dos are to get a massage at the wonderful Ayurveda clinic and visit the magical Theyyam (local religious dance ceremony). Though Theyaam means a 3.30am wake-up, the pre-dawn magic was an experience of a lifetime worth the lost hours of sleep!
Peaceful and private
The homestay is surrounded by lush green habitation and coconut trees, has perfectly situated hammocks overlooking the backwaters, and a cute exclusive bridge to reach the house. Watching the sunset while lying on the hammocks was bliss.
If you're looking to get away from the commercial hue and cry of the city, you can't do much better than Kannur.
Where: Kannur Beach house, Thottada PO Kannur, Kerala
When: We recommend visiting between October and March
Contact: 0497 2836530, 04972708360, +91 9847184535, +91 9847186330, or write to info@kannurbeachhouse.com; kannurbeachhouse@gmail.com
Price: Around INR 3,000 for a double room
Comments