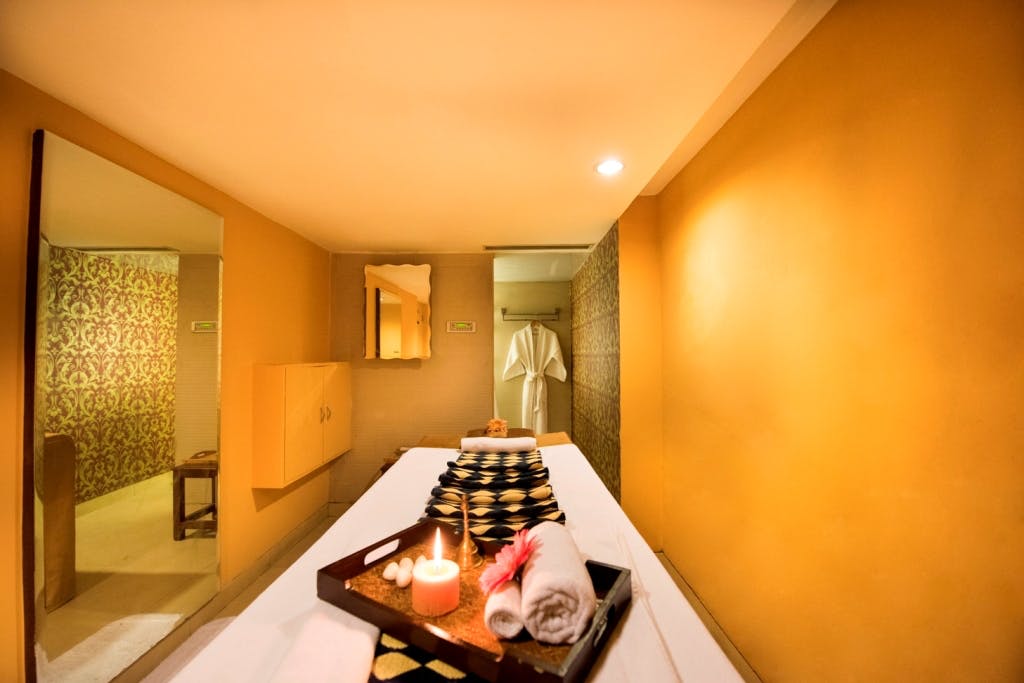 Nearest Metro Station:

KALKAJI MANDIR
Relax, Take It Easy: Hit Up This Spa At The Suryaa For A Therapeutic Session
What Makes It Awesome
If, like me, you want to spend a few hours doing nothing, head to Club One Spa at The Suryaa. You will get a good dose of what you need—relaxation and de-stress massages. The menu is extensive, the services good and the staff friendly. The multiple choices of massages include Thai, Balinese, Oriental, Aromatherapy, Ayurvedic and more. Some last for 60 minutes and others 90 minutes. So there are signature therapies for single ones and couples. I was in for Escape. The 90-minute stress buster began with some stretching movements. Slowly, the masseuse worked her way through all the tired muscles, gently kneading out the knots. Then focused on the more stressed out areas such as the neck and the shoulders, working hard to ease off the pain and the tightness. She then put a hot towel around my shoulders. And let the oil soak in. The oil used was warm olive oil. When the 90-minutes got over, I didn't come to know, as I could have just slept off. There is a place to do this as well, so I should have kept some time on hand. In fact, my good time didn't end with the massage. I went in for a steam sauna, chill pool. I was clearly told that it was good for blood circulation and guaranteed to take the pain out. And it did, but that means I spent a good four hours there.
What's My Pro Tip?
The area is neat; the facilities cool enough to make you feel relaxed. The jacuzzi and chill pool a must try. But asking the therapist on which to try and which to skip would work best. That ensures that you feel refreshed at the end of it.
Anything Else?
Once showered, you do find a talcum in the changing room. There are brushes and hair dryer too. The towels are clean. You can even get a glass of lime juice in the changing room. The locker facility is also available. There is a salon too, should you wish for more beauty. It is best to go by appointment and reach early.The spa menu and the rate card are available on their website. Keep lots of time to pamper yourself and preferably don't drive back. Time: 7am to 11pm.
Comments
Nearest Metro Station:

KALKAJI MANDIR