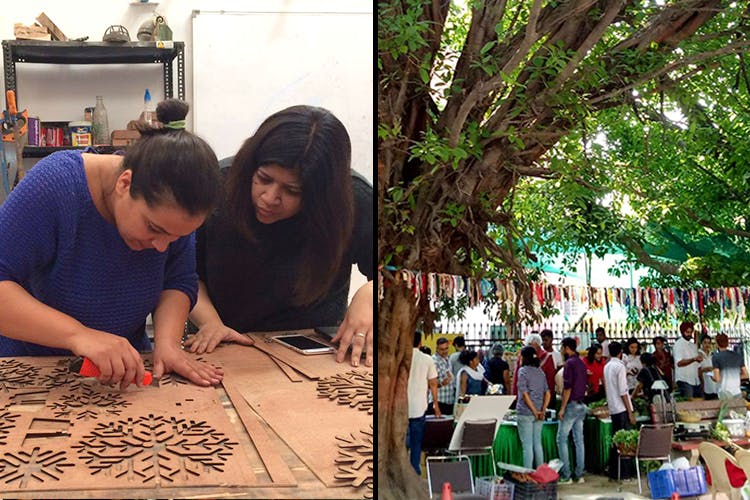 Firewalks, Open Air Screenings & More: Our Picks For The Best Weekend Events In Delhi
If you've been spending your weekends bingeing on Netflix followed by wondering where the two days vanished, we say you switch it up a little. Here are some awesome events you can attend around town this weekend that'll break you out of the usual routine.
Zorba The Buddha
Anything from Rumi poetry and laughter yoga to drum circles and firewalks, Zorba The Buddha hosts weekend events that'll bring you closer to yourself and have a good time while you do it. Check out their whole calendar here for and see what they've got in store for you.
Maker's Asylum
What does Delhi's coolest creators' warehouse do, you ask? 3D printing, laser cutting, woodwork are just some of their fortes. Weekends are even more special where they teach you how to do it all—how to create. They have rapid prototyping courses, wood-working workshops for beginners and more on the weekends that you can be a part of. Check the calendar out here.
Playground Comedy Studio
The comedy scene has been evolving a lot and with Playground Comedy Studio opening up in SDA, us Delhiites have a new hub to get our dose of laughter. These guys organise amazing shows throughout the week, and even better ones on the weekends. Open mics, stand-up, trial room for budding comedians—they've got it all. Check out what's happening this weekend here.
Cafe Soul Garden
Weekend movie night a thing with the gang? How about open air screenings? Yep, Cafe Soul Garden hosts screenings every weekend where you can catch some amazing movies sitting on mattresses in a perfect, nighttime setting. They screen movies on Fridays and Saturdays, so make sure you catch your favourite ones. Check out their upcoming movies here.
Organic Market
Every Sunday, The Earth Collective hosts an organic/natural market at Asiad Village where you can get fresh farm produce, groceries, artisan products, jams and preserves, beverages, body care products and so much more. Their aim is to bring together people with a similar Earth-friendly mindset. Check out this weekend's event here.
Comments