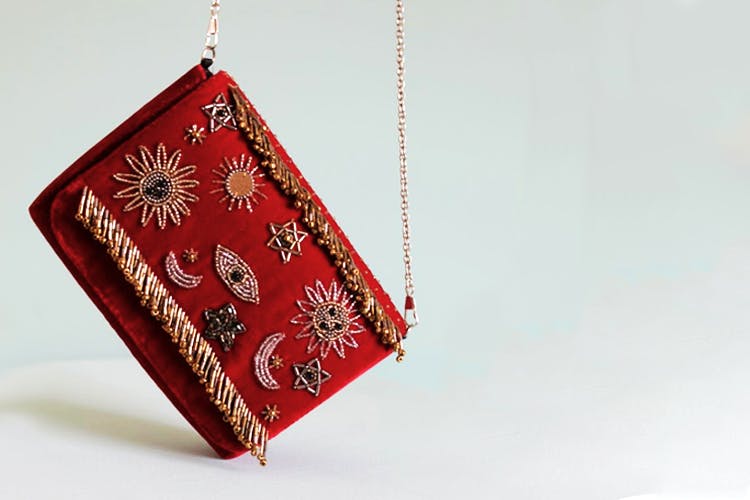 Eye See You: The Evil Eye Trend Makes A Comeback
Evil Eyes everywhere! The Mediterranean upgrade to the humble 'nazar bhattu' has found its way back into pop culture all over again- and we're loving this motif's comeback. If you thought all you could find is evil eye bracelets and necklaces, we've got an update- there's a bunch of awesome brands bringing the evil eye motif to bags, shoes and even more.
We've found awesome- and we're sharing our picks with you.

Evil Eye Sling Bag
This bags stripe design, and fun & bright colours make it ideal for any occasion- from hot summer brunches to date nights! Carry it as a sling, or just carry it as a clutch. PS: It's beaded… and gorgeous.
Evil Eye Sneakers
Kick bad vibes away with these super fly sneakers by millennial favourite shoe brand, Rivir. Give your boring white sneakers an upgrade with this pair. Our editors have rocked this pair with a denim dress.
Crystal Evil Eye Adjustable Bracelet
At just INR 499 this bracelet is affordable- and the quality is great! Its adjustable feature allows it to fit easily on your wrist without much of a problem.
Evil Eye & Stars Embroidered Cross-Body
Embellished with evil motifs, this Little Red Bag has a unique look. A spin on traditional colours and motifs, this bag takes contemporary design back to our roots. It's the perfect size, and fits all essentials.
Layered Glitter Stars Evil Eye Pendant Necklace
Our favourite Instagram trend- layered necklaces ICYMI- finds an evil-eye-fit with this gorgeous piece by Jewellery Junkie. The glittered stars, teardrop crystals and stand alone evil eye pendant.
Crystal Embellished Evil Eye Earrings
Bling bling! Ferosh's bold, bright and fabulous embellished earrings are hella statement… and fortunately not heavy on the ears. Rock these for a night out around town.
Crystal Studded Blue Evil Eye Bracelet
In a lighter blue, this two evil-eye bracelet is one of Shop On LBB's bestsellers. The strap's adjustable, quality is top-notch, and it goes with everything!
Comments