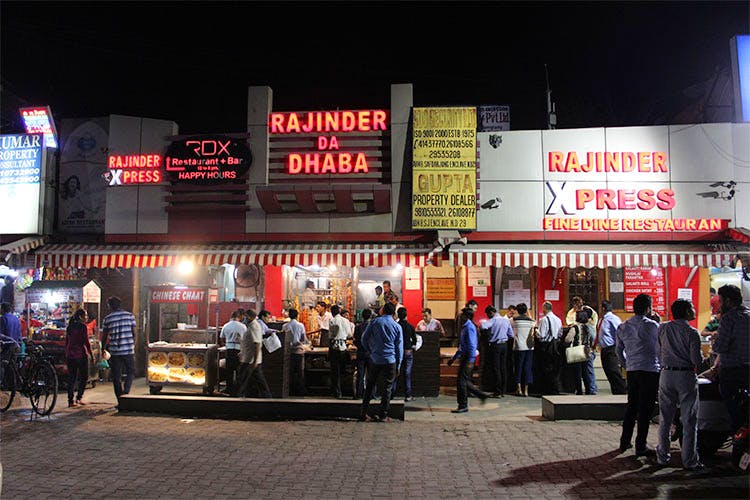 A Gastronomic Exploration at Rajinder Da Dhaba
The famous Rajinder Da Dhaba is one of south Delhi's most iconic dhaba cum restaurants. Head there for juicy kebab rolls, thick curries, Chindian, and an assortment of meats, snacks and breads.
A Legacy
When the Safdarjung Enclave Market (known locally as Kamal Cinema) was still in its nascent phase, Rajinder Da Dhaba was just a small roadside stall. Over the decades (five in 2018), it has grown to take over the marketplace, covering most of the front facade of the main market with its three separate restaurants.
Rajinder Xpress
The dhaba is impossible to miss. People mingle in the car park right in front of the primary market building, eating tandoori dishes out of silver plastic plates, slurping sodas, and sneaking beers from the neighbouring thekas. This area is set up for you to grab your meals and go, and everybody means business. A cash counter for ordering awaits hungry, prospective clients.
Kebabs hang on skewers in one corner, a shawarma rack twirls on one stand, and satay get made on a large, oiled pan. The best things to get here are the rolls. The mutton seekh rolls are tender and full of flavour, and the malai tikka rolls are juicy and perfectly cooked. We also enjoyed the chicken shawarmas.
Rajinder Xpress also has a small, air-conditioned sit-down area, right by the main, crowded Rajinder front that is primarily meant for beating the heat (you can get all the same things outside). They do however have some good biryani, and the rogan josh is pretty accurate in taste and spices.
Rajinder Da Dhaba
If you turn the corner and head to the main Rajinder Da Dhaba restaurant at the back of the market, you'll find the open curry section and bread department. A synchronised team of three slap the maida about and pop it into the tandoor, effortlessly churning out naan. The curry section is filled with enormous vats of chicken curry, mutton korma, butter chicken, dal makhani and mattar paneer. We strongly recommend Rajinder's famous chicken curry (spicy, oily and thick) and the butter chicken, both of which go perfectly with the garlic naan.
RDX
On the outer left side of the main market, overlooking the slip road, is RDX. The restaurant is the only Rajinder space that serves alcohol, and we feel there is nothing better than a beer to wash down the heavy, spice-filled food. There are a ton of bar snacks, and we suggest you try their version of Chinese food. As you would expect, there is some good dry Chili Chicken, crunchy Hot Peppery Lamb and classic Hakka Noodles.
Comments