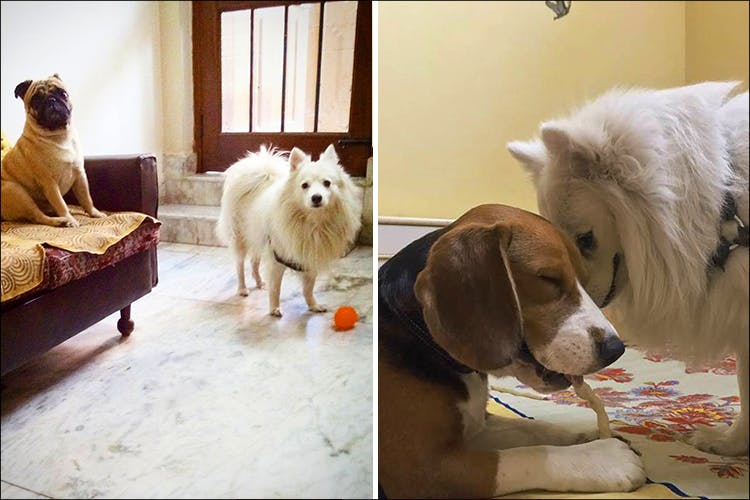 Can't Travel Because Of Your Pet? These Gurgaon Boarding Facilities Will Treat Your Furry Friends Right
Pet parents living in Gurgaon, rejoice! Holidays are the most exciting thing, except for when you have to leave your beloved pet behind. In between all the excitement and planning, the one thought lurking in your head is if your pet is going to be fine while you're away, and you wish dearly that they don't get homesick while you enjoy your break.
So, we bring you a list of home-like pet boarding facilities in Gurugram that promise to make your pet feel at home and loved while you're travelling.
Tail Magic
Tail Magic is a home based dog-boarding facility in Gurugram. Pravin, a certified Canine Consultant, his wife and 3 other canine members of their family run it. Pravin decided to start his own pet boarding facility when he was dismayed at not finding a home-like arrangement for his pets' every time he travelled.  This is what led him to start Tail Magic, where they offer your pets cuddles, playtime, safe socialisation, long walks, tasty food and a lot of fun.
Where: Sector 57 , Sushant Lok 3
Phone Number: 09818048057
Pawsome Paradise
Pawsome Paradise is a home-based pet boarding service, fully managed and run by the owner, Monika herself. Monika is passionate about animals and thinks of her work as recreation, which makes it easy for her to bond with pets who maybe suffering separation anxiety. From feeding pets as per their individual preference, to going out of her way to comfort them, Monika happily does it all, ensuring all the residents feel at home and loved. Their specialty also lies in the fact that they board only a handful of dogs at a time, ensuring each one of them gets their share of attention and care.
Where: Sector 23, Gurgaon
Phone Number: 084470 92932
Alfa 11
It's time for you to stop worrying about your dog being miserable or a misfit while you're traveling, because Alfa 11 is a home-like pet boarding facility that specialises in dealing with dogs with varying personalities, and those that have trouble socialising. Alongside a home boarding facility, Alfa 11 also offers a farm boarding option, depending on what your pooch would like better.
Where: Salapur Road, Salapur Khera Village, Palam Farms. 
Phone Number:098109 64472
Happy Pettings
Happy Pettings is a home-based pet boarding service, with three adorable Labrador Retrievers called Happy, Guggu and Breezer, who ensure your pet does not fall short of company in your absence. The facility aims to offer quality service to pets, along with plenty of warmth and petting to make sure your dog doesn't miss you too much.
Where: D-190, Sector 56, Sushant Lok
Phone Number: 9910470476
Catsville Boulevard
Run by a die-hard cat lover Minty Sodhi, as the name suggests, this facility is a paradise for cats. Not only is it cageless, but also allows ample free movement for cats where they can climb, play, jump and cuddle with each other as well as the owner.
Where: Valley View Estate  Gurgaon, Haryana
Phone Number: 9953607585
Comments