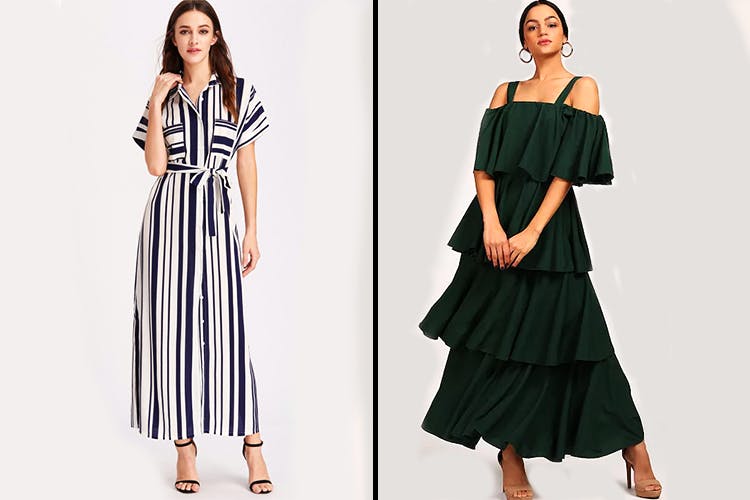 These 5 Breezy Maxi Dresses Are Just What You Need This Summer
A breezy maxi is the perfect summer staple, and one you can just slip into. It's comfortable and looks effortlessly great (barely any styling required). To help you get your summer wardrobe on-point, we've curated a list of some maxi dresses that you need this season.
Button-Down Maxi
A button-down maxi dress is breezy and stylish. It's the kind of thing you could wear to work and also wear to a nice brunch. A button-down maxi dress can also double as a cape. Pair it over a solid coloured T-shirt, and you have a great outfit ready.
Shop here.
Floral Maxis
Florals for summer? While that's stating the obvious – floral maxis are always a good idea. They're fresh, bright and look great. Just pair them with your best shades and you're good to go.
Shop here.
Ruffled Maxis
This summer is also all about amping up the drama, and the coolest way to do so is to pick a ruffled maxi dress in a light-weight fabric. Ruffles also help add volume if you're particularly skinny. This dramatic number works perfectly for a night out.
Shop here.
Red-To-Toe Maxi
A fresh crimson hue is one of the biggest trends for Spring-Summer 2018. Red is a colour that's unapologetic and bold, and it instantly makes you look attractive. So, a red maxi dress is the perfect pick for date night with bae.
Shop here.
Sheer Maxi
Sheer, tulle, chiffon and mesh may have once been considered strictly nightwear, but no more. A simple maxi sheer overlay is a cool way to give your outfit a fresh twist this summer. Also, maxi dresses made of sheer fabrics like chiffon, are cool for the summer and look feminine.
Shop here.
Comments