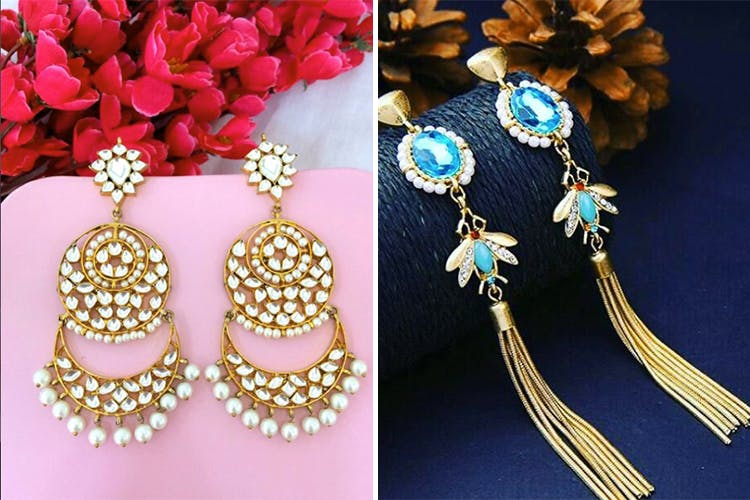 Don't Break The Bank: 5 Artificial Jewellery Brands For Brides On A Budget
Crushing on those phenomenal sets from Hazoorilal Jewellers, but on a budget? If you're a bride who's avoiding overspending on jewellery, Shaadi Saga gives you five, gorgeous artificial jewellery brands which won't burn a hole in your pocket.
Purab Paschim
Known for their luxuriant and free-spirited designs, Purab Paschim focuses on keeping it grounded, but with unique finishing. They give brides the option of keeping it traditional, but with chic elements that are totally on-point. They offer elaborate headgear, which looks absolutely stunning. Their motto is to make brides believe in magic with their timeless pieces, most of which are made of pure silver and infused with original Swarovski crystals and pearls.
Buy here.
Chica Blanca
Chica Blanca stands for everything polished, glowing and radiant; their jewellery is known to be quirky and ethnic at the same time. Their collection has something for everyone, whether it's for the blingy bride or the minimalist one. Perfect to wear for a mehendi or sagan.
Buy here.
Ra Abta By Rahul
From multi-layered necklaces to intricate passas, every piece at Ra Abta is a winner. Their pieces are classic and timeless. But the best part of their collection is jadau, kundan jewellery, and their chandelier style kalire. This place is definitely every bride's paradise.
Buy here.
Soranam Jewels
From kundan earrings, mathapathis to broad naths, they have it all. They do traditional Indian jewellery with a modern touch, combining modern and contemporary styles. Pretty Kundan passas, tikkas and necklaces with careful detailing are a part of their special collection.
Buy here.
Nayirah Jewellery
Popular among brides who are keen on sticking to a budget, this label has gold-plated and Swarovski-based jewellery. We love their satlada haar and cocktail rings. They look gorgeous and make a statement, so we recommend these for your main event.
Buy here.
Comments