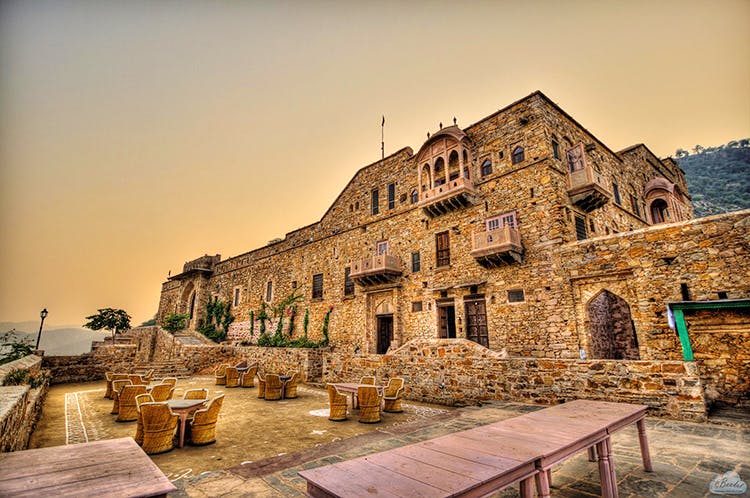 Plan Your Next Weekend Getaway At These Forts Less Than 6 Hours Away
Sometimes all you need for a good vacation and for a good weekend getaway is the thrill of history (and the comfort of luxury). These 10 forts have been converted to hotels and resorts and we just can't get enough. AND they're close to Delhi, so book away!
Dadhikar Fort
Why would you not indulge in the history of a thousand years and the heritage of an old fort that has been restored to its former beauty? A perfect blend of Indian art and culture, this fort-turned-hotel will be your perfect weekend getaway keeping in mind its beautiful location. With quaint rooms and tents, Dadhikar has wooden furniture that somehow manages to feel luxurious. They also have a pickup and drop service, so worry not!
Driving Time: 3.5 hours (approx.)
Alsisar Mahal, Shekhawati
Known for hosting Magnetic Fields, Alsisar Mahal in Shekhawati is a 'battle-hardened fort', right on the silk route. In the middle of an arid desert, you can have the pleasure of checking out frescoes, the Rani Sati Temple, a large number of ruins around the place which make it perfect for a weekend getaway. The architecture, antique furniture, and carved poster beds spell lavish like nothing else.
Driving Time: 5 and a half hours (approx.)
The Fort Unchagaon, By Aspen
A gorgeous heritage hotel, Raja Surendra Pal Singh acquired the fort during the early 1800s. Close to the temple of Amantika Devi, we are also pretty excited about the dolphin sighting expeditions they have. Bullock cart rides, golfing, horseback riding notwithstanding, it is the river and the Kumaon hills that have our heart. They have special deals during long weekends, so look out for those.
Driving Time: 2.5 hours (approx.)
Mud Fort
In case you are looking for a quick weekend getaway, Mud Fort can be your ideal choice. This mid-18th-century fort sits on a beautiful and picturesque location and was built with seven turrets as an anti-cannon attack fortification. Also, quite nearby are the banks of the Brijghat (about 25 km away) which sums for a spot of picnicking.
Driving Time: 2.5 hours (approx.)
The Hill Fort
Dating back to the 14th century, the hill fort is close to the forests and birds of Sariska. Under the banner of Neemrana Hotels, they have large spaces to relax and unwind, and if this weekend, what you are looking for is spending time by sunsets, it is a trip you must make. This place offers tours to Kankwadi fort, Neelkanth temples, Jaisamand Lake, Talvriksh hot springs, Bharatpur and more.
Driving Time: 3.5 hours (approx.)
Khimsar Fort
This is a unique 16th-century fort that has centuries of history written on its walls and hallowed ramparts. Perched right across the great Thar Desert, this is an old-style fortress haveli that has lawns that go on and on, stunning sights and rooms that will leave you awestruck. The fort is slightly cut off from civilisation, but we suggest you enjoy the remoteness. After all, not every weekend getaway can demand parties.
Driving Time: 9 hours
Ramgarh Fort
The Ramgarh Fort was owned by the Chandel Rajputs (of Mahabharata times). The tallest wooden gate in India (37ft) secures the fort, as do the walls (18ft thick) and also gives way to the zenankhana (women's section). Try out their multi-cuisine restaurant, Dastarkhan, for its tandoor. For a memorable getaway, the place also arranges day trips to Morni Hills and Kasauli and is perhaps the only heritage hotel that has completely vegetarian food and doesn't serve any alcohol.
Driving Time: 4 hours (approx.)
Fort Ramshehar
Close to Shimla, this fort is located on a hillock at the foothills of the Himalayas. This gives you a panoramic view of the Shivalik Hills, beyond the Sirsa River. Rooms are based on regal themes and have Wi-Fi access. Sorting the weekend is their well-known spa so, make sure you don't miss on that.
Driving Time: 6 hours (approx.)
Tijara Fort Palace
Constructed over the course of 13 years, Tijara Fort was a labour of love for Maharaja Balwant Singh. Built in 1836, the restoration has been taken over by the Neemrana Hotel group. You will be taken on a journey of artwork this weekend which is visible in the rooms at Tijara and the architecture has a unique blend of Rajputana and Afghani influences.
Driving Time: 2.5 hours (approx.)
Neemrana Fort
One of the quickest getaways near Delhi, Neemrana is super convenient and gorgeous to boot. The 15th-century hotel features hanging gardens, two swimming pools, an Ayurvedic spa, and India's first zip-line. If the adventure isn't enough, the romantic surrounding makes it perfect for a weekend date.
Driving Time: 2.5 hours {approx.}
Comments