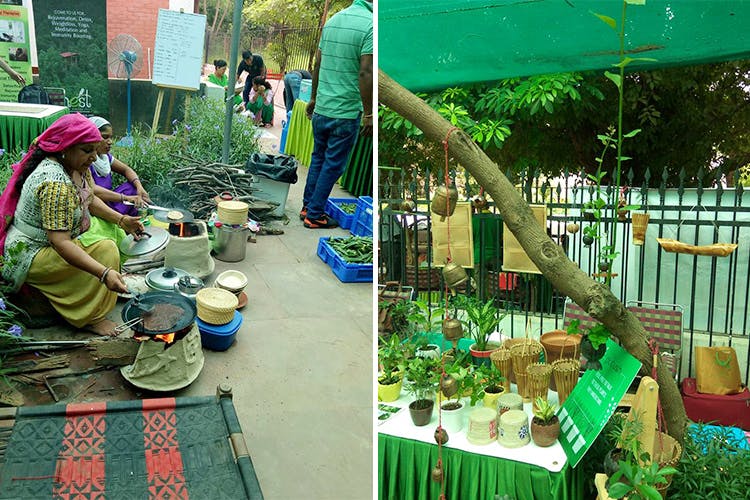 Fresh Jams, Organic Idlis & Even Body Oils: Find It All At This Sunday Organic Market
Shortcut
Every Sunday, the community centre at Asiad Village hosts a one-of-a-kind farmer's market. Out in the open, under the shade of the trees, you'll find 10-15 brands who are championing the cause of environmental sustainability and personal well being.
A Brunch Under The Sun
A refreshing sight, away from all the concrete and mad traffic, this farmer's market is everything that's wholesome collected and organised into a close huddle. Whether you're someone who's into organic beauty oils or a lover of homemade jams fresh from the orchards, they've got a whole bunch of green brands to pick from. They get their fresh herbs, farm produce, natural essence oils, pahadi pulses and everything free of chemical pesticides for people who believe in eating good and living well. Parathas and smoothies then? 
It helps that it's a compact set-up packed where you can get everything from kitchen garden assistance to weekly supply of organic fruits and veggies – no frills, nothing elaborate, just a few people who are united by their vision.
We have to confess that we were initially lured by the idea of eating idlis and fresh coconut chutney and parathas slathered with white butter for an organic Sunday brunch. Sure enough, we got ourselves Beejom kitchen's South Indian vadas and then, set out to discover all the other things.
Some Goodness Packed For Home
We're hoping you're going to come back as a better, more responsible human but that's not the only obscure takeaway here. There's in fact lots that you can pack for home if you're going to take baby steps towards making some lifestyle changes. Begin with khad, saplings and organic pesticides from Edible Routes so you can grow your own greens. Desi Utpad's subzis and cooking oils from Himachal villages and Sue's cutely packed jars of pickles are a few of our other favourites.
We're told we that Laksh Farms is also a regular with yummy chutneys and gur waali rotis that fly off the tawas.
Eaten enough and realised that you have niggling aches that make an appearance ever so often? Sign up for a quick consultation with naturopathy and Ayurveda specialists from Indo-German Natural Health. Or, if sweet-smelling beauty products get you happy, linger on for Meraki's essence oils and Vedic Tattva's natural face cleansers and co.
You can plan a visit but we need to go try the organic body butter we bought last week for now.
So, We're Saying...
Once the weather gets better, they'll be back to organising "Handpicked" at Select City as well. It'll have all the usual suspects so you can get another reason to hit the mall early and make a whole shopping day of it.