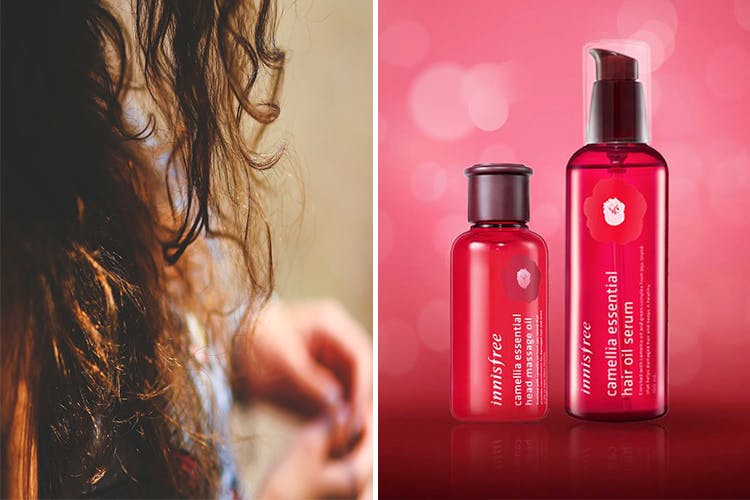 Frizzy Monsoon Hair? You Need These 7 Things In Your Life
It's delightful to nestle into your favourite duvet when it's pouring cats and dogs outside. We just wish our hair felt the same way. Frizzy hair seems to have a mind of its own, but there are ways you can tame it. Simple and effective tress tips and products coming right up!
Panache Volume Comb
A solid friendship with a wide-toothed comb goes a long way. Always keep one in your handbag, just in case the hair Gods decide to wreak havoc as you rush to a meeting. Not only does the Panache Volume Comb de-tangle strands, but it also distributes scalp oils evenly so that it frizzes up less.
Innisfree Camellia Essential Hair Oil Serum
Hair oils are so passé! The future of hair care is all about serums infused with the goodness of natural oils, like the Innisfree Camellia Essential Hair Oil Serum. It builds a thin, resistant coating against the harmful effects of humidity. A fluid texture and a lightweight nature are the cherries on the cake!

Use An Old Cotton Tee (Not a fuzzy towel)
Let's get to the 'root' of the problem. Did you know that the way you dry your locks decides the health of the cuticles? Guess what, that fuzzy towel of yours is the perfect recipe for frizz. Swap it with an absorbent, old cotton t-shirt.

Pantene Pro-V Oil Replacement.
Contrary to popular belief, deep oil massages don't help. You end up using double the shampoo to get rid of all that grease, which dries out strands even further. Instead, lightly massage Pantene Pro-V Oil Replacement. Why you ask? To give you the benefit of overnight oiling in just 30 minutes! Convinced now?

Aloe Veda Mild Nourishing Shampo
Vega Go Handy VHDH-04 Hair Dryer
Don't whip out the blow-dryer the minute you step out of the shower. In fact, we'd choose air-drying over blow-drying any day. However, if you don't have the patience for an air-dry , set the dryer at the lowest possible setting. We vouch for the Vega Go Handy VHDH-04 Hair Dryer.
Ditch Junk Food
Time for your grandmother to make a sarcasm-laden entry. Remember when she advised you to eat your way to beautiful hair and you nodded with a huge burger in your hand? She's right. Ditch junk food and include more protein in your diet for an enviable mane.

This recommendation was first posted on Nykaa.
Comments