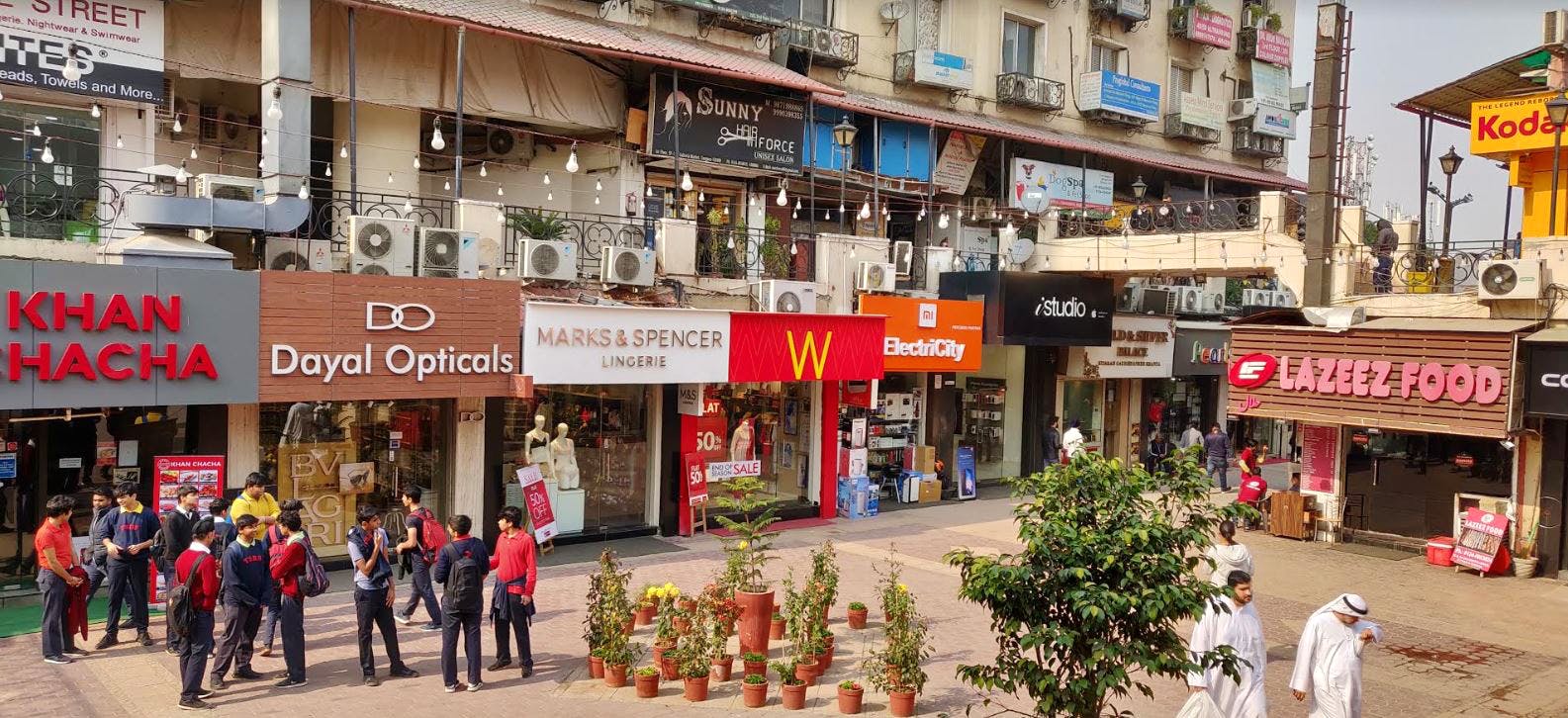 Beyond Waffles & Rolls: This Gurgaon Market Has Great Shopping Options Too!
Gurgaon peeps often flock to Galleria when hunger strikes late at night, or when they want to grab a coffee or a drink. However, the market also has a lot of shopping options. From local home decor, to apparel and skincare, the market has it all. So here's our trusty guide for shopping in Galleria market.
Fabindia
Fabindia's store in Galleria market is super huge, and the place is great for when you need to shop for cotton or khadi ethnic wear. They also have a great collection of cotton and silk saris, juttis, and kurtas and nehru jackets for men. If you're into silver jewellery and pretty juttis, then I'm sure you'll find something you like here.
Price: Starting at INR 750 for kurtas.
Hush Puppies
Flat sole squad, this store has the answer to all your foot pain woes. They've cracked the formula to comfortable footwear and their collection is quite fashionable too. Don't miss this when you're out shopping in Galleria.
Price: Flats starting at INR 2,000
Nykaa
Galleria market also has (our favourite) a Nykaa On Trend store. Makeup fanatics can flock here to find brands like NYX, Nykaa, Maybelline, Revlon, and more. Our favourite section is the extremely meticulously arranged rows of nail paint bottles in the store.
Since it's a Nykaa On Trend store, you won't be able to shop the higher end brands here. The store only keeps the more affordable ones.
Pashupati Collections
This store has a pretty great variety of ethnic and fusion wear. The clothes are mostly made of natural fabrics such as cotton and linen, and are quite breathable and summer-friendly. What really caught our eye though, were their chikankari kurtas and suits. Totally in love with the designs! They also have great kurtas and short kurtas for men.
Price: Kurtas starting at INR 600
Forever New
Fashionista favourite, this store is a hit among girls who are always fashion forward. From their dresses to accessories, they've got a really great collection of stuff, fresh off the runway.
Price: Dresses starting at INR 4,000
Akriti Store
This home accessories shop is great for utility stuff such as pretty glass bottles, ceramic tableware, pretty mugs, and much more. We suggest you check out their tableware if you're looking to buy some new pretty plates and glasses.
FourSeven
If you're someone who loves minimal and detailed jewellery, you have to drop by this store. They had pretty rings and earrings, and even some customisable necklaces and pendants. We personally really liked how they had a lot of options in minimal and sleek designs.
For those who live life a bit on the hippier side, they even have bracelets made from semi-precious stones and crystals.
Price: Rings and earrings starting at INR 700.
The Body Shop
This vegan and cruelty-free brand is a favourite when it comes to make-up and skincare. They've got a wide range of skincare, and bath and body essentials that you can choose from, as per the requirements of your skin.
Price: Body butters starting at INR 995
W For Women
Are cool kurtis your jam? This store has the prettiest collection in great quality. They've got tons of options in festive wear, too, if you're looking for something more dressy. From palazzos and kurtas, to pretty dupattas, they do ethnic wear like no one else.
Prices: Kurtas starting at INR 700
Handloom House
This store has handloom ethnic wear for men and women, all in natural fabrics. This government-approved handloom store is a great place for those who like all handmade and hand-woven clothes. The clothes here are super summery and breathable, and are definitely worth a look.
Price: Kurtas starting at INR 500
Kriti Life
Whether it's Rakhi or a house-warming you've to go to, you'll find gifts for every occasion at this store in Galleria market. They also have basic home decor stuff like planters, wind chimes, center pieces, and show pieces; so if you're looking for something for your own place, you might find something here.
Price: Home decor items starting at INR 300
Modluk
This store is a definitely a must-visit for girls who are fashion forward. They've got jumpsuits, coordinated sets, dresses, pants, and the works. The clothes here are all caught up with the latest trends, and if you're eyeing something specific that's in fashion, you might just find it here. It's priced quite reasonably too.
Price: Pants starting at INR 300, jumpsuits at INR 600
The Decor Kart
This store is a great option for those looking to fill up that empty corer of the house with something subtle and pretty. They've got tons of lamps, lampshades, vases, show pieces, and even some utility items like bar-closets and stuff. The stuff is priced a bit on the higher end though, and depends on the size and make of the piece you choose to buy.
LogiCuff
This bespoke mens' apparel brand does tasteful and subtle menswear. Whatever design you may have in mind, they can make it for you, and that too. in the fabric of your choice. They also have a great collection of ties, bow-ties, and cuff-links that you should take a look at.
Price: Depends on the design you go for, and is disclosed upon a consultation.
Innisfree
This Korean beauty brand has taken up the Indian market by a storm since it's one of the very few brands that retail Korean beauty products and sheet masks in the country. Beauty bloggers can't stop raving about this brand, and we love it, too. And it's pretty cool that they've opened a store in Galleria Market.
Comments