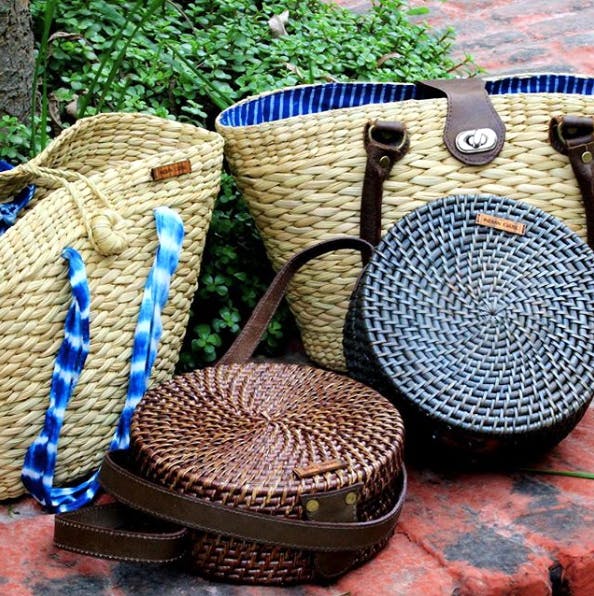 You Cane Not Miss These 5 Trendy Bags
Woven beach bags have been a fashion favourite for a while now, and for good reason too. Alia Bhatt rocked it throughout her Italy vacation (releasing a video on that too, stay tuned!)

These bags instantly elevate any outfit and can transition from sand to city in the blink of an eye. Whether it's made with plastic, straws, jute or cane, a woven style pairs equally well with your bathing suit as well as your fav summer dress. So we're just gonna say it: If you had to choose one, this is the only trend you need to bag stat.
Straw Honeycomb Circle Cross Body
The ethnic straw base looks so good in this modern style. I'm really big on eco-right fashion, and if you are too - you'll love the handcrafted honeycomb design and vegan leather straps on this piece. Our editors have been styling it equally well with formal looks and casual outfits. So head over to LBB and get your hands on it now!
Interwoven Kauna Grass Market Bag
With this interwoven bag - you're farmers market ready. Ziveli is an awesome local brand that does some of the most earth-friendly accessories we've seen. Absolutely love their Kauna grass handles and utility bag styles!
Loop Closure Interwoven Kauna Grass Cross-Body
Looking to add some straw bags to your brunch outfits too? Cop this small loop closure bag. It's just right amount of roomy - holds your phones, plastic & paper money comfortably and is super light on the shoulders too. Worn best with a chic jumpsuit, vintage-inspired outfit and sneakers.
Straw & Cane Circle Cross-Body
Mixing up straw and honeycomb, this one's basically #sustainablefashion done right. It might not look so, but it's surprisingly super spacious and the chic green and brown combo is really different from the bags we generally lug around. P.S. - If you'd rather just go basic, this comes in beige too.
Kauna Grass Basket Bag
Another killer drop by Ziveli, this basket bag is an LBB-user favourite. There's no double guessing on how awesome it looks, so let's dig into its deets - Kauna grass handles, 12*11 inch space and no extra colouring. Yep - it's the natural cane colour and looks so good!
Comments