Get Toned And Lose Some Weight At Her Fitness Gyms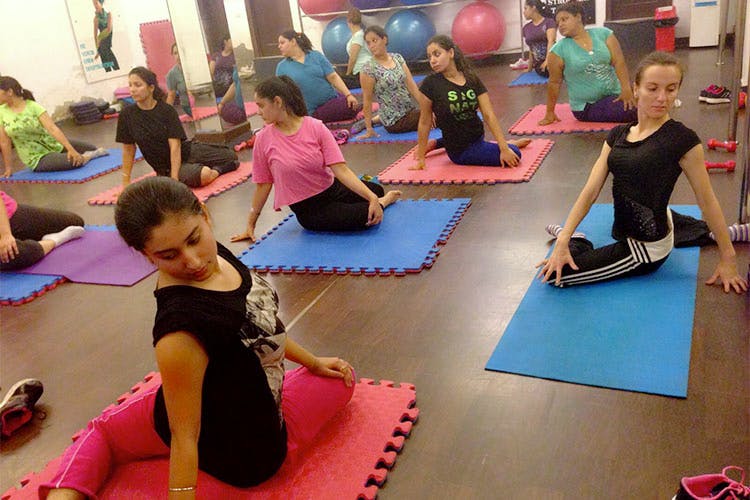 Shortcut
Her Fitness is a collection of fitness centres with group classes and a focus on women's fitness.
Who Are They?
Her Fitness is a group of women-specific fitness gyms in Delhi. Started in 2009, they aim to add fun to your workout and remove the boredom generally associated with it. They focus on group classes and personal training for general fitness and weight loss.
They have three locations in Rajouri Garden, Paschim Vihar and Vikas Puri.
What Do They Offer?
The studios offer a series of group classes such as yoga, kickboxing, dance, and Crossfit. You can also access the regular gym with their certified trainers and equipment.
The yoga classes come in three forms: hatha, power and yin-yang yoga. Hatha is an introductory class that teaches basic postures, power is a more challenging class with a focus on strength building, and yin/yang is a heated yoga class.
Zumba and aerobics are calorie-burning, metabolism boosting classes, and are fun group options to help motivate you. If you're looking for something more intensive than just weight loss courses, their kickboxing and Crossfit classes are good for strength building and conditioning. There is also a step fitness class for intensive, low-impact exercise that takes up just half an hour of your time.
So We're Thinking…
With fully customisable personal programmes to suit any level of age, fitness, and ability, Her Fitness is a good option for women looking for weight loss or strength conditioning. The many group, and very regular, group classes are a big plus, and help add a community feeling and motivation factor not found in regular workouts.