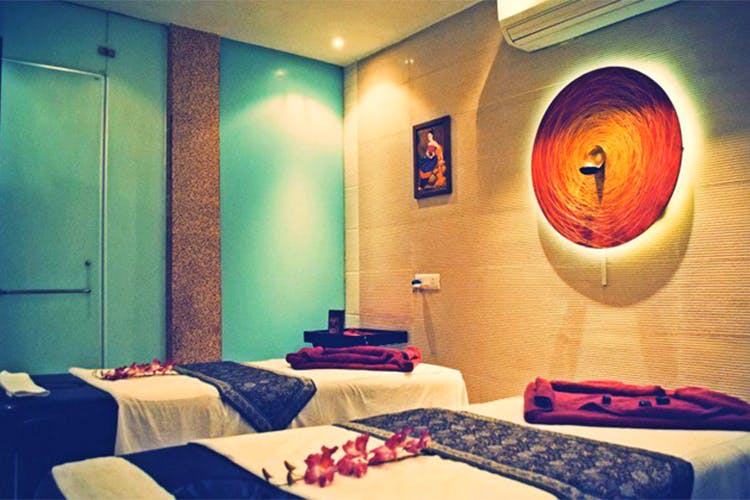 These 5 Non-Shady Spas In Gurgaon Have Services Starting At INR 500
We often forget to pamper ourselves in the midst of our chaotic lives. Treat yourself to a spa day without having to break the bank. Here are some places you can hit up.
Alaya
If you're looking to get rid of all the tension in your back, we recommend you go in for their Shiatsu massage feel refreshed. They have a variety of other massages like their traditional Balinese, classic Swedish, Hawaiian Lomi Lomi, but if you want the basic works, their spa massages start at INR 500.
Thai Way Foot Spa And Reflexology
For those of you with tired feet, this foot spa is the solution to those sore soles. They have their own organic foot oils and their 'Love my feet ' session is pure bliss. In addition to foot massages, they do therapies specific to your back, shoulders and neck. Make the most of their rejuvenating offers and step out with happy feet.
R's Just Hair Salon
Our tresses probably require spas much more than our body, especially after being constantly exposed to this pollution. Apart from hair spas, they have a natural herbal hair treatment and spas for your nails too. Try their spa mani-pedis. With hair spas starting at INR 500, we're sure you'd want to keep coming back here.
Spa Royale
With an excellent team, which knows exactly what your body needs, this spa offers a number of excellent services. They also do couples spas, so you can treat bae and yourself to some pampering. Their full body massages start at INR 1,199.
Monsoon Spa
A little on the higher side, this spa makes it worth it with their massages. Their deep tissue full body massage is heavenly and will make you not want to get up. Exit this place feeling refreshed and rejuvenated, your body will thank you for this later.
Comments