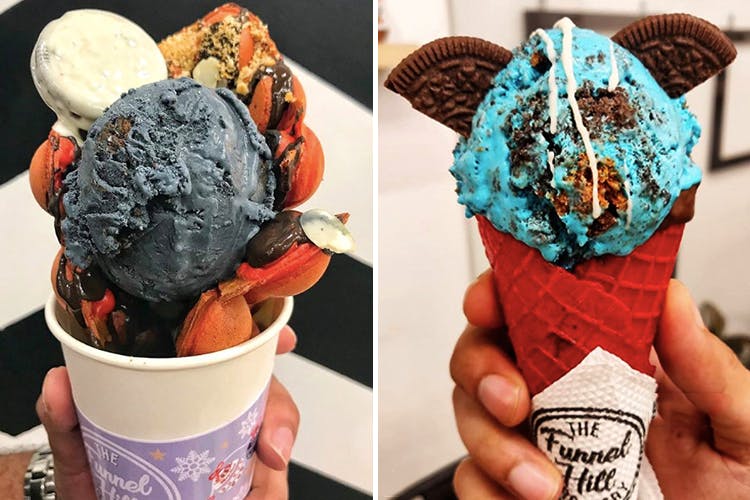 Delivery Available

Wi-Fi Available

Nearest Metro Station:

GREEN PARK
Here's Where You Can Get A Scoop Of S'Mores, Peppermint Chocolate & Black Ice Cream!
Shortcut
Black ice-cream in a black cone, or black ice cream in a red cone or a blue ice cream in a funnel cone? With lots of colours, flavours and pretty pictures, the Funnel Hill Creamery's making all our sweet Instagram dreams come true (food-wise, at least).
What Makes It Awesome
The Funnel Hill Creamery in Green Park main market is doing ice creams, waffles, shakes and brews that are every bit Pinterest-worthy.
We went here expecting a lot, and came back full, happy and sure that this tiny (but lovely) eatery is doing everything right.
For starters, they're one of the the first ice parlours doing gothic ice cream in the city. Their Devil's Hell black ice cream with a red cone is makes us want to ditch our diet and brings out the Insta-obsessed millennial in us. The delightful coconut-y flavour of the ice cream (Let's face it; an acquired taste) and the crisp, red cone drenched in Nutella will make it difficult for you to not order another one.
We also managed to try the Cookie Monster ice-cream, inspired by the blue Sesame Street muppet and the Exotic Fruits Belgian Waffle. If you love cookies, you'll like the blue cookie ice-cream but it was the waffles that came with a generous portion of exotic fruits like red grapes, dragonfruit and lots of Nutella that we were impressed by.
They've also added a bunch of new ice cream flavours like S'mores (apparently the first in India), Blueberry Cheesecake, Basil & Lemon and even ice cream sandwiches that we can't wait to try.
What Could Be Better
We feel that the prices here are a tad bit on the expensive side. Also, those who can't take too much sugar and need something savoury to undercut the sweetness might be disappointed. We really hope the folks at Funnel Hill add a few savoury items on their menu (we hear Mac n Cheese waffles are on the cards).
Just a heads-up; your teeth might retain a bit of the black activated charcoal colour from the ice cream.
Pro-Tip
They also deliver the ice creams (although, only to areas close to Green Park)! For a house-party or event, be sure to get tubs of their S'mores and Snicker Doodle ice creams delivered.
Comments
Delivery Available

Wi-Fi Available

Nearest Metro Station:

GREEN PARK