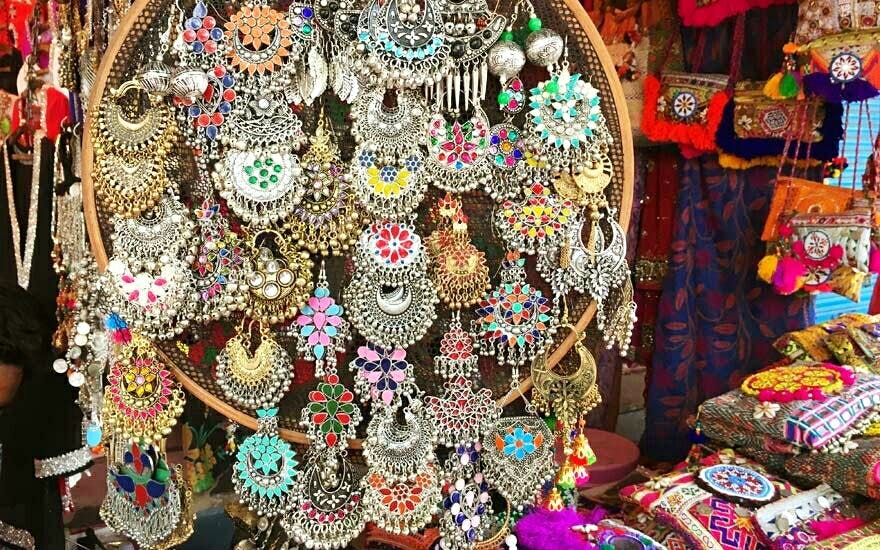 Janpath Is A Shopaholic's Paradise: Score Some Cheap & Quirky Gujarati Jewellery
What Makes It Awesome
The Janpath shopping area is huge! From Janpath metro station to the inner circle of CP. The Gujarati lane where the aunties sit down with their jholaas, full of colourful vibrant dupattas, chunnis, salwar kameez and even sarees, can be bargained to around INR 150 to INR 200, depending on your skills. So brush up your bargaining skills before leaving for Janpath as these ladies can be very persuasive. The Kundan-style earrings and chand baalis were probably the foremost ones found in Delhi. The earrings range from INR 150 to INR 300 depending on its designs and characteristics. Elsewhere, home decor at Janpath is also a huge deal for people with the zeal for interior decoration, the tinted glass windows with bright colours provide a very 'desi' look at the walls. The chandeliers and lamps too can be found at a very cheap rate. For people who want to get a boho touch to their rooms and homes, can use the beautiful tapestries that can be easily found in the market.
What's My Pro Tip?
Go with a calm and cool attitude to bargain with these shopkeepers. Also, the Gujarati aunties leave the lane around 7pm, so be prepare an early evening shopping spree.
Anything Else?
Apart from the clothes, wall hangings and other decorative items, kolhapuris are another sort of thing at Janpath.
Comments