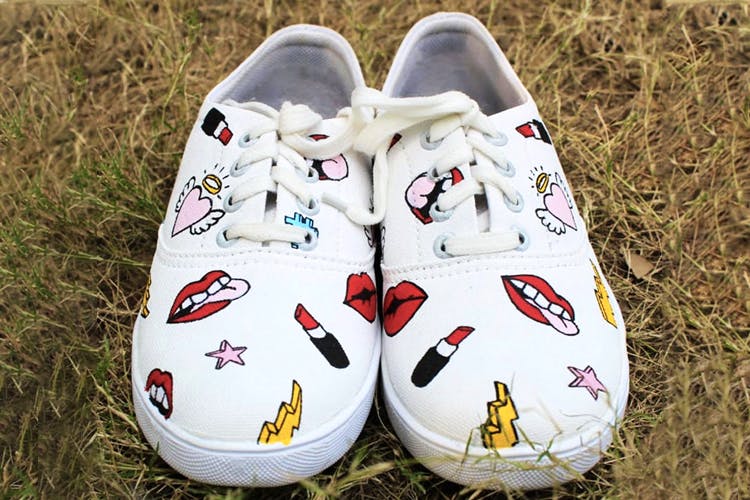 Cute Sneakers Alert! We Found 7 Hand-Painted Sneakers Under INR 2000
Quirky, cool and hella unique, hand-painted sneakers have steadily become a user FAVE at LBB. We found shoes made by a couple of awesome brands from all around India that are delivering on cute prints, top-notch quality and super comfy sneakers. The best part? These won't break the bank.
Step in, stand out!

Quirky Sneakers
Bright red lipstick, stars, pouting lips, these sneakers by Jolaa are adorable. Made using high quality canvas, these shoes can endure your everyday wear and tear.
Snoopy Sneakers
#ifoundsnoopy! With its on-point millennial pink base, pair these Funkfeets sneakers with a white summer dress; or just slip them on with your favourite pair of denim shorts and this 'Weekend' tee.
Rainbow Lightning Sneakers
These shoes are a personal favourite. The motifs' perky colours give the shoe a sassy feel. Pair these with jeans, and keep it casual!
Dessert Hand Painted Sneakers
Foodies, these ones are for you.
The pastel blue canvas provides the perfect mellow base for the pops of colour on the donut and muffin motifs. So cute, we could eat these up!
Map Sneakers
Wanderlust alert! Thinking of living the #nomadlife but stuck your city all summer long? Add some funk- and work on those #travelgoals- with this pair.
Rainbow Unicorn Sneakers
Millennial pink, again! This time with our 2 favourite emojis- unicorns and rainbows. Lightweight and snug, they are super comfortable to move around in!
Banjari Shoes
We're digging the ruby red laces on these travel inspired sneakers. More subdued than the map sneakers given above, this pair by funkeets is also super comfortable.
Comments