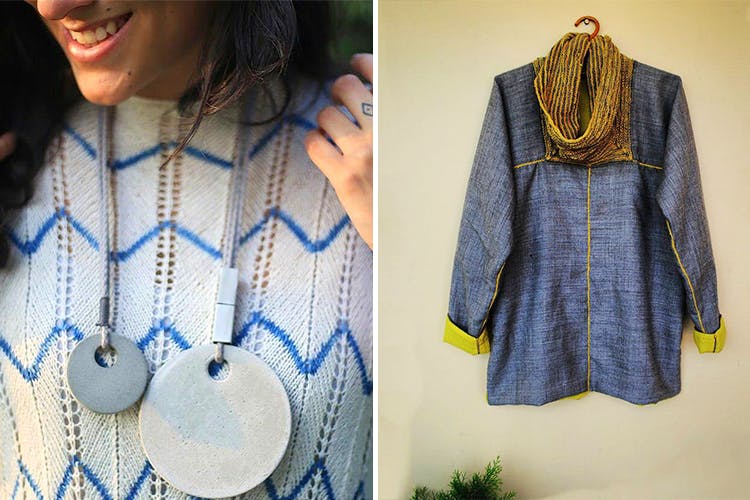 These Hand Spun Woollens Are Dyed Using Walnut Skin & Pomegranate Rind!
Shortcut
Peoli is a label based in the hills of Uttarakhand, with a range of hand spun, naturally dyed, and hand-knitted woollen goodies.
What Makes It Awesome
Our first impression of Peoli was 'so damn gorgeous, but too expensive'. That didn't stop us from stalking their site for their beautiful collection of woollens though. That's when we realised the effort that goes into making each item.
The locally sourced wool, cotton, silk, and nettle used is all spun by women artisans with simple tools like the spindle or charkha. The fabric is dyed with natural colours and then knit by hand. Not just that, they go a step further by only using harvested rain water and solar energy!
Coming to their winter wear—they've got panelled tops, dropstitch tops, cowl neck ponchos, tunics, kimono-style sweaters, and jackets. They use a mix of locally sourced material like merino wool, Harsil wool, and kala cotton (grown in Kachchh, Gujarat).
We're crushing hard on their overcoat shawls—so damn classy and versatile. Their stoles are pretty darn great as well. Need something to cover your head and hands? Their bobble caps, mittens, and gloves are adorable.
How they dye their products is what we found most interesting. The browns you see in their collection come from the skin of walnut, Brazil wood, and catechu; orange from madder root, blue from indigo, grey from the fermentation of iron in molasses, and green from the rind of pomegranate!
No wonder their collection looks so damn delicious.
What Could Be Better
Their prices aren't on their website, which can get quite frustrating.
Comments