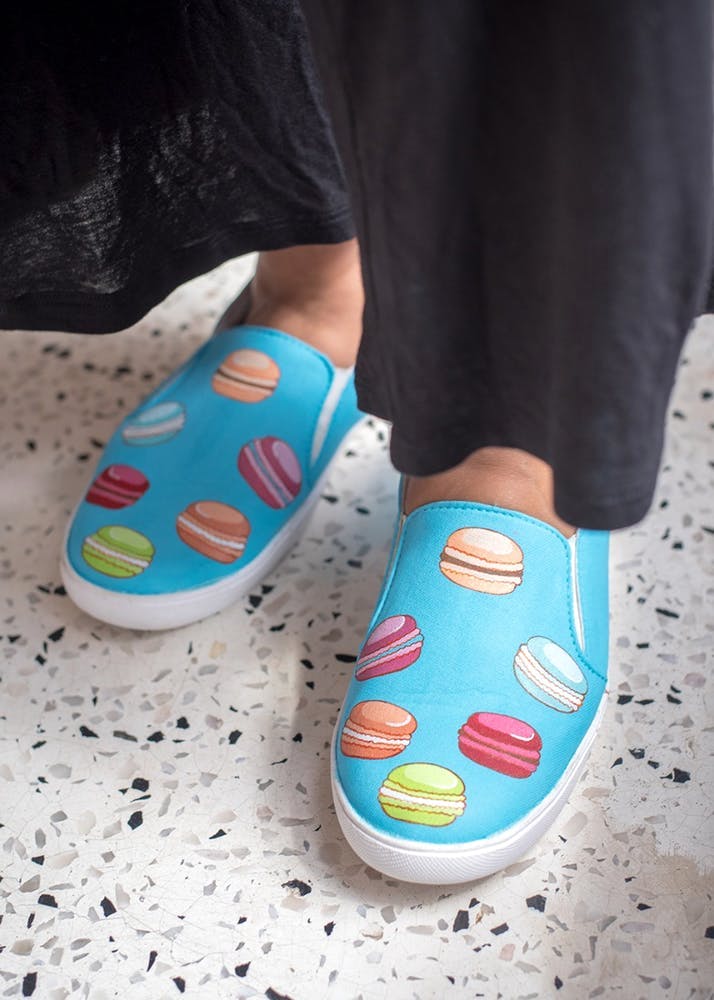 Love Deserts, Shoes And Deserts On Shoes? Bag These Handpainted Sneakers Stat
There seems to be a trend with food motifs syncing up with street sneakers and nothing makes me (& my feet) happier! A few of LBB's brands are doing really cute desert motifs on pastel coloured sneakers and I've gradually come to own each one of their pieces. From cutesy macarons to cupcakes and deserts of all kinds, everything sweet has been meticulously hand-painted on these, by local kaarigars. It's safe to say, everything about this collection makes my heart feel so whole.
Macaron Hand-painted Slip Ons
If you're on the clumsier side (like me) and can never seem to get your laces tied up at once, pick these sea green slip ons! They come with a comfy sole, look great with casual outfits of all kinds plus they have my (and hoping yours) favorite thing ever - you guessed it - macarons.
Pink Handpainted Slip Ons
Digging the slip-ons trend? You'll love these baby pink ones. Doesn't matter which desert you love, this one's got all of 'em. I wore them with my Ice Cream Day outfit, and trust me, all my IG followers went crazy.
Watermelon Sneakers
These quirky white kicks are one in a melon (bear with my bad puns)! They're a great upgrade to routine sneakers and make all my outfits pop in an instant. Jokes apart, I wore them to a formal meeting once and safely started a trend there too!
Cup Motif Sneakers
Calling all chai-lovers, caffeine addicts, and basically anyone who loves to drink something out of a cup: bag these sneakers stat. In a black and white combo, these don't look too extra and dial up your quirk quotient without any effort.
Comments