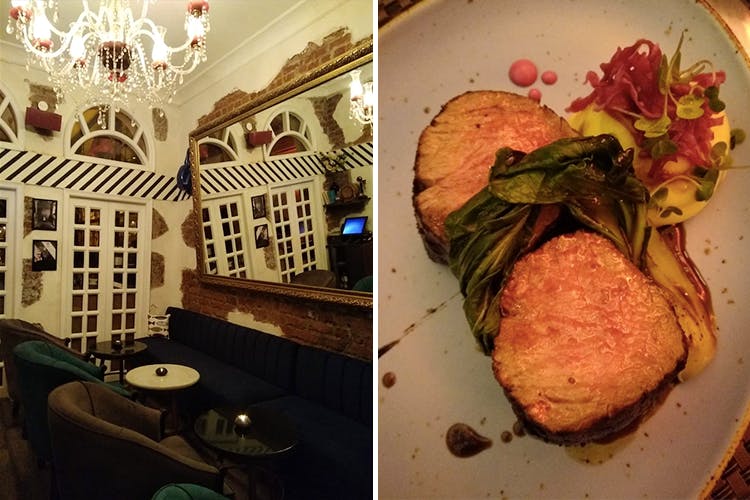 This Fun, New American Restaurant Has Opened On ATM's Bistro Level
Shortcut
Sazerac, a new American restaurant that's popped on the bistro level of ATM Bistro in Sundar Nagar, is a great place to grab a Sazerac signature cocktail, a burger or a steak.
What Makes It Awesome
You walk in and automatically, it's mixed feelings because you think ATM Bistro has disappeared, when in fact, it's just been sized down to a single floor—the top one. Oh, and now ATM is just a members-only club.
On the lower floor is the brand-spanking-new Sazerac (which isn't members only—it's open to all). An American style restaurant (with a sampling of many cuisines, so quite appropriately 'American') with the mandatory fabulous cocktails that the PCO/ATM team always delivers on (the OG Ramos Gin Fizz had an Archie comic Pop's Chocklit Shoppe vibe—but with gin—and the House Sazerac was as classic as the namesake Sazerac gets), this place is worth putting on your about-town to-do list.
If you're a starter kinda diner, the Whole Italian Burrata With Marinated Tomatoes And Rocket and Pistachio Rocher Chicken Liver Pate are an absolute must-try. The pate was coated in a red wine reduction, and topped with pistachios, with an end result that was a very refreshing change. The burrata was unreal—we're ordinarily hardcore carnivores, but it was undoubtedly the best starter of the evening. We also tried the Tenderloin Carpaccio, which left us a little underwhelmed.
For mains, we tried the Confit Leg Of Duck and the Tenderloin Steak—the confit was lovely, but the steak was the clear winner—done exactly as w asked for and, albeit a little dry, came with enough extra jus to balance that out. Plus, everything comes with the lightest, creamiest mashed potatoes.
You might want to end the evening with the Peanut Butter & Chocolate Dense Mousse and the NY-style Lemon Cheesecake—we preferred the former over the latter, but they're both quite decadent. Or, try the 90% Manjari Chocolate Bombe and tell us how it was—sounded so good but we were far too full.
The Carpaccio—it had an overly-oily texture that didn't work for us. Everything else was pretty much wiped clean off the plate.
More Information
Sazerac
Wi-Fi Available

Nearest Metro Station: JLN STADIUM
Comments