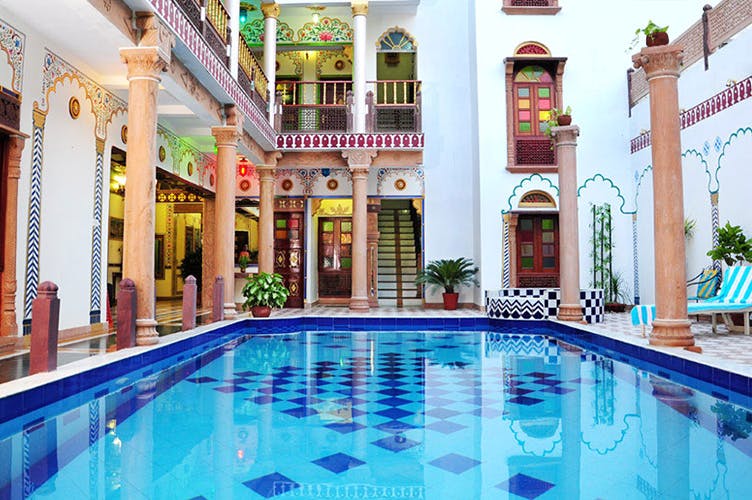 A Guide to the Best Homestays & Hotels in Jaipur
Before it all fills up during January, we've decided to give you the keys to our favourite hotels and homestays in Jaipur. So book now, and get those reading glasses on.
Sunder Palace
Carved arches, gardens, and a palace on a budget. That's exactly how we'd describe Sunder Palace for you. Its airy rooms are beautiful and it's right inside the city, so you don't need to worry about transport. You'll get dependable Wi-Fi, the restaurant serves almost every cuisine possible, and is in a gorgeous garden to boot.
Jaipur Inn
A guesthouse that has a rooftop restaurant with a gorgeous view of the city? Yes, please. The resident peacocks will welcome you into this cutesy place with big rooms and spacious gardens. The rooms are well equipped with ACs, TVs and other amenities. And if you stay here for a bit, you can indulge in the blue pottery classes, silver jewellery making and block printing workshops.
Jaipur Homestay
Run by a couple, Dilip and Tanuja, Jaipur Homestay is warm, welcoming B&B with four spacious rooms and a terraced garden. An equipped kitchenette, a doctor-on-call and free Wi-Fi ensures almost everything you could ever need.
Magpie Villa
Located in the heart of Jaipur, this is one of the safest spots in the city, if you're going for the first time and are a little unsure. A small homestay owned by Amita, we love the parathas in the morning, laundry facility and the comfort of readily available hot water and Wi-Fi.
Mahar Haveli
Another heritage hotel, they have 24-hours room service, a well-stocked mini fridge and a rooftop terrace that beats any other view. And the best part, it isn't even that expensive.
Camellia
A homestay, they have three spacious rooms and a stunning lawn. Close to the railway station, we recommend the place if you're looking to stay in a safe residential area, away from the bustle of the main road. The owner, Pushi, has tastefully done up the place and it's perfect for the lit fest tourists, because of its proximity.
Pearl Palace Heritage
A premium hotel with a gorgeous feel to it, this is what we recommend if you're looking for attention and lots of pampering. The Kutch room is especially gorgeous, and we hear they have mirror fragmented walls. All the rooms are different and the attention is detail is something that we love.
Khatu Haveli
Built in the mid-19th century, six generations of Khatu family have lived on the premises. A little away from the main city of Jaipur, we won't recommend it if you're looking to travel to Jaipur everyday. With rooms built around a typical courtyard, expect arches, verandahs, courtyards, galleries and terraces. We hope you'll go for the terraced rooms on the second and third floors.
Hotel Vimal Heritage
An ornately decorated heritage home, this is a colonial-style Rajasthani palace that has magnificent Rajasthani frescoes and murals in bright colours ranging from blues to yellows and greens, on the walls and ceilings with lots of mirror work. They also organise shows if you want to experience the culture of the state.
Adhbhut Hotel
A beautiful heritage boutique stay, this is one place where you can explore a lot more than usual. They organise hot air balloon rides and are close to the four main forts and palaces within the city. They do buffet-style and a la carte menus and accommodate your dietary restrictions, if you have any.
Jai Vilas
About 10 minutes away from the main city, it's just the right amount of heritage and posh. Archana and Joy Singh have done up the place with deck chairs and greenery that makes you want to soak up the winter sun. They also have a pool for the summer months.
47 Jobner Bagh
One of the Maharaja's Jobner gardens, this is a place steeped in history and heritage. Located bang in the middle of the city, you'll be ensconced in the original walls of the garden and get a view of the Aravalis from the terrace. With beautiful artifacts and a hotel that takes care of each and every one of your whims, we recommend this over anything else in its range.
Karma Haveli Resort
A luxury option, we recommend this if you have lots of moolah saved up for this trip. An authentic 17th century mansion, it is situated in Brahmapuri, the first colony of Jaipur. The place has been furnished and designed by local Jaipuri craftsmen and is a mere 10 minutes away from the centre of the city. The Karma Kasuri Restaurant serves local and international cuisine, and the renovated ancient stepped well forms the centre piece of the gardens.
Comments