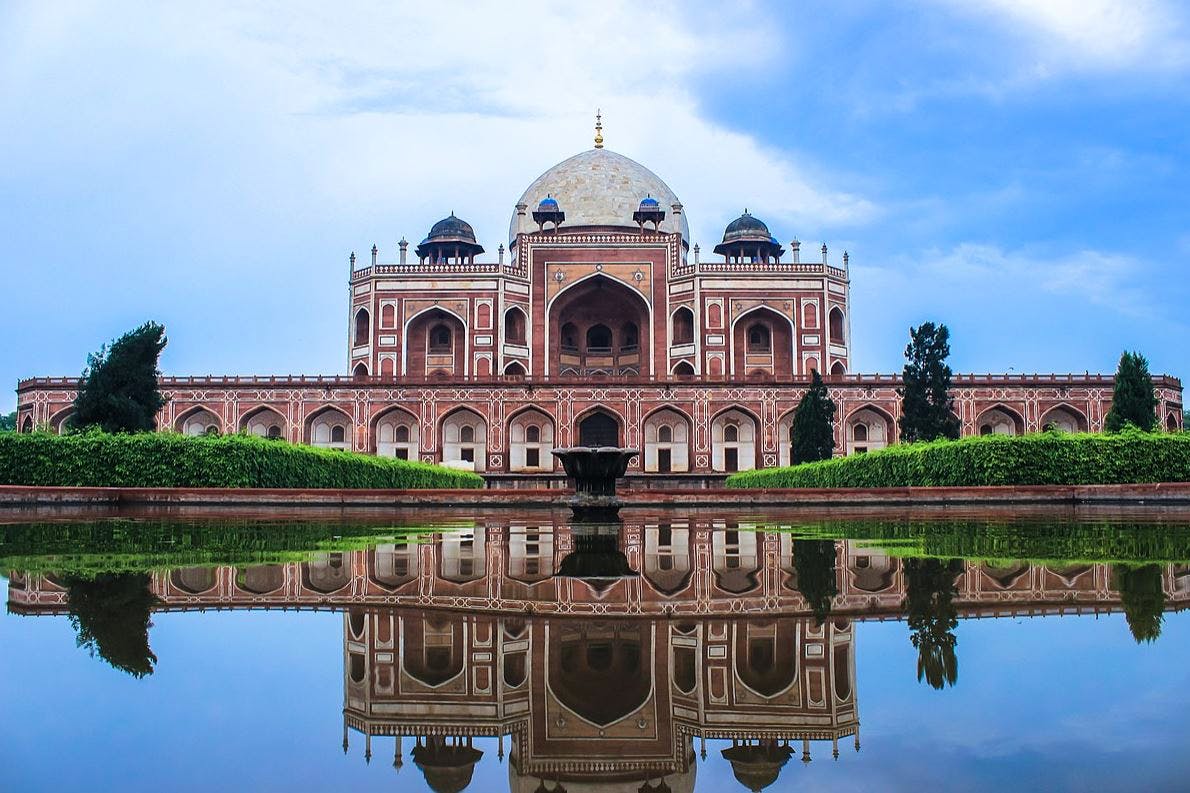 Enjoy The Sunset, Visit A Dargah & More: Plan A Day Around Humayun's Tomb
What Makes It Awesome
Located in Nizammudin, Humayun's Tomb is a grand (and very well maintained) sandstone mausoleum that's pretty as a picture and is one of Delhi's most popular spots for sightseeing and photography.
A UNESCO world heritage site, Humayun's Tomb is definitely one for culture and architecture lovers to bookmark. This is where the 2nd Mughal Emperor Humayun is buried. The mausoleum also houses the remains of several other Mughal personalities of note, including that of Bega Begum (Humayun's first wife).
A turning point for Mughal architecture, this one was the first in India to have a Charbaagh, or a Persian quadrilateral garden divided by fountains and water channels. At the end of its perfectly-aligned layout lies the majestic tomb, which you'll reach by passing through several smaller monuments first. If you've already noticed similarities to the far more famous Taj Mahal, it's because Humayun's Tomb was the original inspiration. Cool, right? Also, the white marble dome of the tomb is now illuminated during the night time and it makes for a beautiful sight in Delhi's skyline. You can read more about that on their website.
We suggest making a trip around mid-morning. Don't forget to take a camera with you, since all the symmetrical beauty of Humanyun's Tomb makes for killer photographs. You can also lounge on the surrounding lawns for a while if the great outdoors is your thing. Post that, you can check out the enormous heritage park Sunder Nursery, which is right next door. The location of this picturesque tomb was chosen deliberately for its proximity to the dargah of the Sufi saint Hazrat Nizamuddin Auliya, which is where you should head in the evening (between 7.45pm to 8.30pm) for a peaceful, spiritual experience.
Hungry? The Nizammudin basti, where you can devour a Mughlai feast of kebabs, curries, and biryani, is just five minutes away.
Pro-Tip
The nearest metro stations are Jor Bagh and JLN Stadium. It's open on all days from sunrise to sunset (they haven't exactly fixed any timings) and entry will cost you INR 30 per head if you're a citizen of India and INR 500 per head for foreign nationals. Children up to 15 years are not charged any entry fee.
Photography is free at the tomb, while video filming charges are INR 25 per person. Just make sure you save this for a day with good weather.
Comments