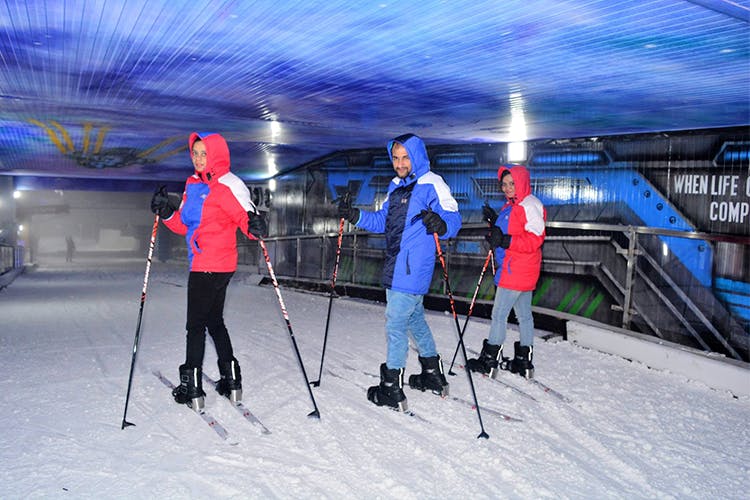 Hate Summer? Cool Off At These Ice Skating Rinks In The City
Getting out of your house during summer is a hassle, but that shouldn't stop you from hanging out with your friends. There's only so much of malls and movies that one can take and outdoor activities are clearly out of the question (considering the heat). Ice skating with the crew would then be a great option. While there aren't any ice skating rinks in Delhi, you can always drop by the ones in Noida and Gurgaon.
iSKATE, Gurgaon
The 15,000 sq. ft. entertainment destination – iSKATE includes a café, karaoke room, bar and of course, a large skating rink that can comfortably accommodate around 150 people. It's absolutely okay if you're not the best skater (especially on ice), because their instructors will always have your back. You can pay by the session (each one an hour long), and once the time is up, you can see the iSkate crew entering the rink to smooth the ice out for the next group. While you're waiting, you can hit up their café for a quick snack, or try their bar on the upper level (which is now finally serving alcohol!).
Price: Starting at INR 499
Ski India, Noida
Ski India, also known as Snow World, at Mall Of India is Delhi NCR's first ski resort and a perfect place for a snowy respite. They've used great technology to create one of India's largest snow parks and have everything from skiing and slope tobogganing to bob sled, snow sledging, ice skating and a snow carousal. Our favourite however, is the igloo where you can also star-gaze. If you're just looking for a place to beat the heat with friends and family, Ski India is definitely a great option.
Ski India is under renovation and is expected to reopen in march 2019.
Price: Starting at INR 1,150.
Comments