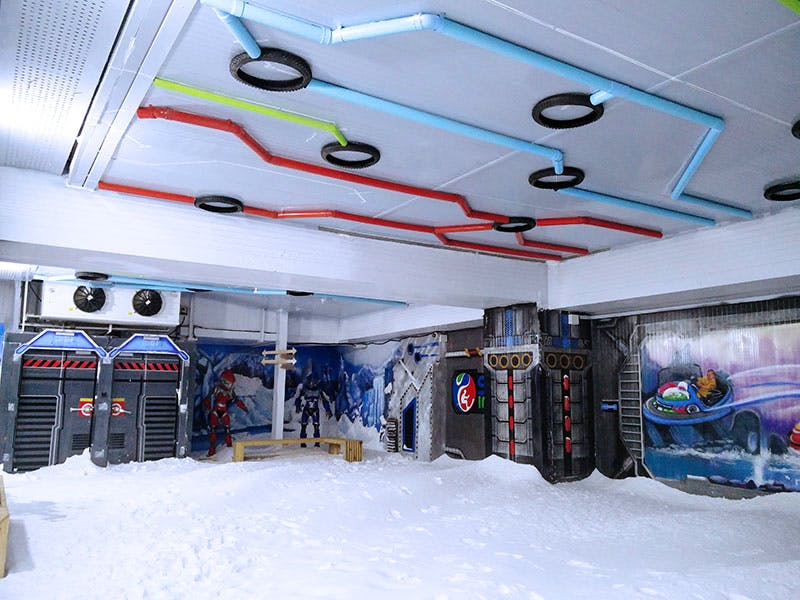 Missing Winter? Delhi Has A Snow Park Where It's Always Minus 10 Degrees
Shortcut
Snow World Delhi is the perfect place for a snowy respite. They've used state-of-the-art technology to create ice and snow in the middle of the furnace that is Delhi.
A Freezer In The Middle Of Delhi
Minus 10 degrees, with snow upto your calves and icicles above your head, is unimaginable in a city like Delhi—but here we are. Snow World Delhi welcomes people of all ages to a frosty snow room with multiple activities like skating, skiing, tobogganing and more, without having to save up for a trip to the Alps.
We tried out the sleighing areas, where we whooshed down the slope in a tube or sliders. There is also a stunning cave, an igloo where you can star-gaze, and a bunch of options for kids, too.While all of it is enormously fun, (making snow angels, whipping snow balls at unsuspecting bystanders, or catching your breath after sliding down that huge slope) we would recommend that you wear full clothes, or you will get terribly cold.
There have also been reports of minor scrapes and accidents, and we will recommend that you mentally and physically prepare yourself before diving into the fun.
Read The Manual
We were given these awesome jackets and cool-looking boots and gloves. Socks are mandatory, so you can either bring your own, or purchase them from their socks unit. The staff gives you clear instructions about slippery floors, and how it will be pretty cold in there. The total duration is around two hours, thirty minutes of which will be spent at the reception. We suggest that you sit and get acclimatised to the cold, or you might get a headache, fall sick or feel too breathless.
So, We're Saying...
If you're into skating, or are just looking for a place to beat the heat with friends and family, Snow World Delhi is a great option.
More Information
Snow World
Nearest Metro Station: NOIDA SEC 18
Comments