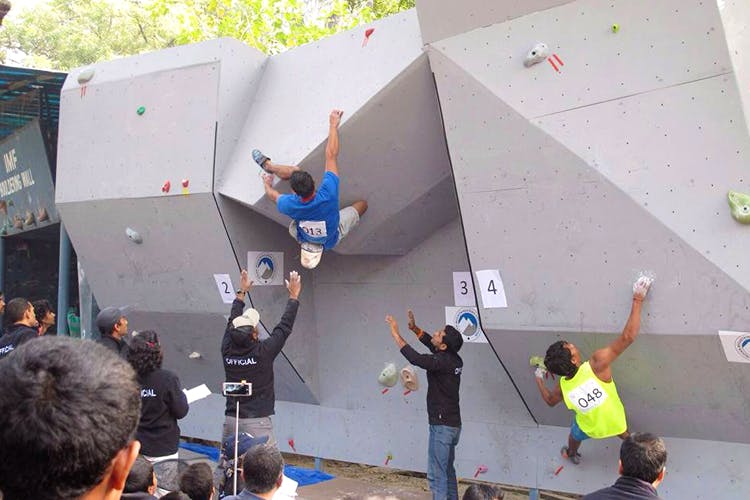 Nearest Metro Station:

DHAULA KUAN
Rock The Outdoors & Go Climbing At Indian Mountaineering Foundation
Shortcut
Hidden uphill on Benito Juarez Marg, the Indian Mountaineering Foundation's (IMF) artificial rock climbing wall is a great place to test your strength and endurance levels, while learning a great new skill.
What Makes It Awesome
The first thing that strikes you about IMF is the high energy around the space. There are serious climbers making it seem like child's play, beginners looking in complete awe, and instructors egging everyone on. As I pushed myself to climb to new heights, huffing and puffing all the way, the encouraging shouts and friendly words helped me 'get a grip'.
Their outdoor set-up has four walls on which climbers can challenge themselves. First-timers begin by attempting the beginner's wall, which has closely placed markers or hooks for an easier climb. After mastering that, the climber moves on to the intermediate wall, which is at an incline and requires greater strength.
The speed wall tests a person's swiftness and climbing skills, and needs a fair amount of practice to reach. Then comes the lead wall, based on the idea of leadership climbing, where the climber hooks themselves onto certain markers and climbs without any support from another person.
This wall mimics a real life climbing experience, and it is a treat to watch the experienced climbers complete this wall (they are literally dangling as if hanging off cliffs).
Pro Tip
Adding to the charm of this space are the well-manicured lawns around the area, and the lovely trees around the stone brick building, with peacocks who come and perch themselves on top of the wall. The aching limbs the next day though, are another story!

Comments
Nearest Metro Station:

DHAULA KUAN