The information in this post might be outdated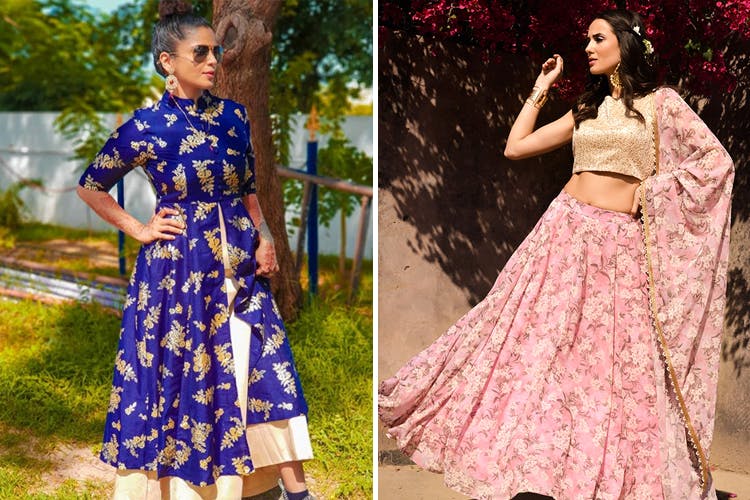 We Found A Brand That Does Non-Blingy Weddingwear For As Low As INR 1,000
Ten Second Takeway
Indya (also known as House Of Indya online) does inexpensive, comfortable weddingwear—think lehengas, tunics, kurtas, dupattas and more—for people that prefer their outfits on the subtle side.
For All The Lazy Desis
I'm not at all good with things like wedding shopping—I hate getting anything made, and going to tailors in general. I even avoid store shopping, if I can, and mostly buy things online. Weddingwear in general I tend to find too bling-y for my taste. If you're anything like that, the House Of Indya website will serve you well. What I liked was that it had lots of lehenga, blouse, kurta and tunic options that were pretty, understated (but with enough to choose from on the dressier side) in wearable colours like pastel pinks and blues, as well as oxbloods and darker greens. Almost none of them were overly shiny, embellished, or in general anything that could make you look like a Christmas tree. I bought a floral co-ord lehenga-blouse set for my sangeet, and a lovely matte dull-gold blouse from them (that I needed to match carefully with an it's-been-in-the-family lehenga), and they ended up costing me a lot less than it would've to get them stitched—not to mention required zero physical effort, because it came to my doorstep in my size. While the fit wasn't completely like a glove, it was pretty close—I actually managed to make do with very little alteration. All three things cost less than INR 7,000 put together, which (basis my research in prep for the wedding) was pretty great for weddingwear. Their floral prints are prettier than their others, but they also do matte metallics (bronzes, silvers, ruby reds, etc) better than most. Another great thing about the floral print lehenga—I was dancing a lot throughout and, ergo, had a couple of drinks spill on it a little (a few drops) and they seemed to roll right off and not stain, because of the texture—something I found extremely helpful for the occasion. Disclaimer: I wanted a look that wasn't too dressy for my wedding, so this worked like a charm for me. For the average Indian bride, this might be too dressed down but it's absolutely perfect for a friend's wedding.
So, We're Saying
For a bride who prefers to go the subtle route, or a bridesmaid that's not big on bling, you've found a great, fairly hassle-free solution to your problems. PS: They have physical stores in GK and Vasant Kunj as well, but the website was more interesting to me because very few places were doing this (and doing it well) in the online space.
More Information
Indya
Nearest Metro Station: KAILASH COLONY
Comments