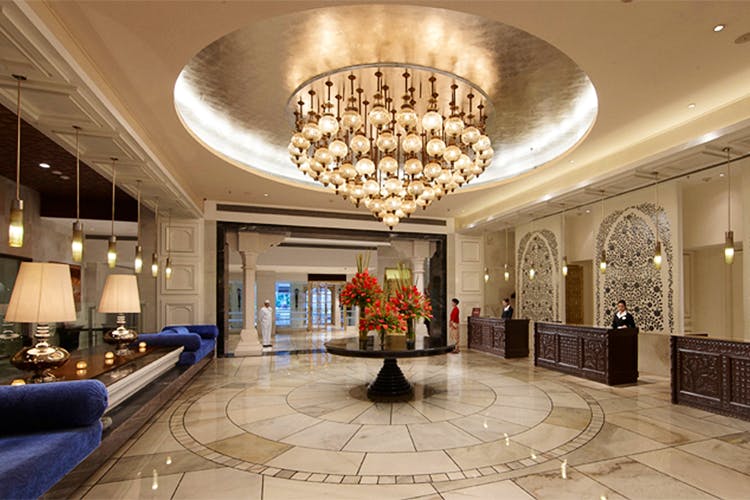 Visiting The Taj Mahal? Spend A Luxurious Night At ITC Mughal
Shortcut
Check into ITC Mughal, Agra and you'll have the Taj in the background, lush green lawns, idyllic water bodies and Mughal inspired architecture.
Say Wah Taj
Or maybe not. Once you're at the ITC Mughal, you will lose yourself in this gorgeously landscaped property, and find it increasingly hard to schedule a visit to the seventh wonder of the world. Maybe after you've played a spot of badminton? Or just perhaps after you have done a few laps in the sparkling waters of the spa pool?
Or just maybe, and hopefully after you are done devouring the artichoke and rocket leaves pizza that came calling to your room?
Green Is The New Black
Verdant like a tropical forest, the ITC Mughal boasts of an impressive nursery, and quaint walking trails that meander through the hotel ground and have trees and shrubs that feature in the times of the Mughals as pit stops.
Look beyond all this vegetation and you will spot birds of several feathers, from hyperactive swifts to neon tinted parakeets, making for quite the jungle experience.
Food So Good
Whether gorging on chunky potato wedges in your room, or slowly enjoying the breakfast spread at Taj Bano, be assured the fare will be delicious, hearty and comforting.
What is a holiday without feasting- so do pay a visit to Peshawri- the in-house North West Frontier speciality restaurant, or alternately get on with your liquid diet and sip on a spice infused cocktail at Maikhana, as you watch fellow travellers glide in and out of the corridors of the hotel.
Added Perks
The Kaya Kalp Spa is manna for soothing your aching muscles, and calls out for some cosy me time. There are a range of pampering Ayurvedic treatments on offer too.
The hotel is a comfortable 10-minute drive from the great monument of love, and if you're in the mood for more, do throw your attention towards the rather magnificent but oft neglected Agra Fort.
#LBBTip
Don't miss the Jharokha E Taj – a stunning observatory that lets you marvel at the marbled wonder on the hotel grounds. Plan your trip to the Taj at 6am to beat both the crowds and the fierce sun.
Comments