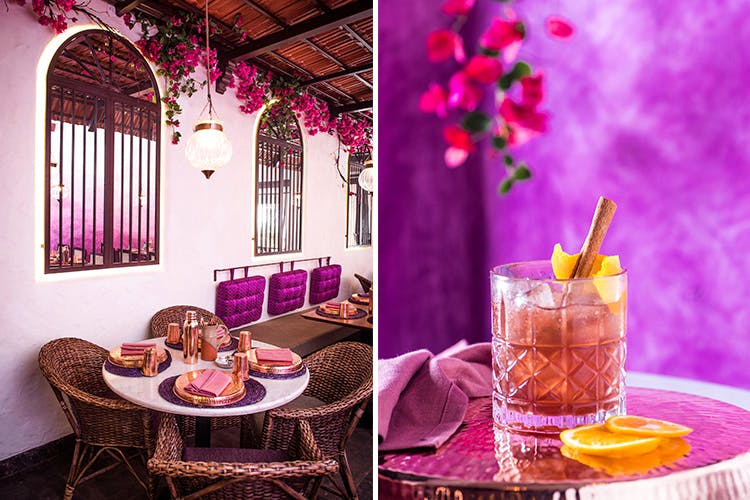 Nearest Metro Station:

JORBAGH
Here's Why The Newly-Opened Jamun Is Worth Its Perfectly Balanced Salt…
Shortcut
The newly-opened restaurant in Lodhi colony by Team PCO is a violet-tinted delight, with an interesting (but not over-reaching) menu of regional Indian food from various parts of the country.
Everyone's Been Talking About Jamun...
When the team that brought us ATM, PDA, PCO and Pings announced the impending launch of their planned regional Indian eatery and bar, Jamun, Delhi was abuzz. It's a launch that had the city's connoisseurs (and psuedo-connoisseurs) waiting to see what the Pass Code collective, with myriad concept-restaurant winners in their repertoire, would bring to the (literal) table. As I walked in to a space (gorgeous, but I'll get to that later) that, though sparsely populated at the time, was thick with patrons not an hour later, I realised that word-of-mouth had done it as much service as any press could.
Jamun's aesthetic, rife with fluid tones of mauve, mulberry and Mardi Gras purple, had an almost visceral effect on me as I walked in. The tenor of the space was upped by Jamun-shaped, silky-white diffusers, standing like good children behind guest's chairs and emanating a redolent aroma, reminiscent of soft, fall flowers. Drowning in a deluge of all things copper (fans, railings and plates included), the vibe is regional-with-privilege, and Jamun pulls it off perfectly.
The evening opens with a selection of papads in a basket (bread baskets are so 2000-and-late), accompanied by a bevy of spicy and mild chutneys, infused with pineapple and sour yoghurt, amongst other atypical ingredients. Then, a series of starters follows suit, which the almost surreally polite and eloquent waiters wheedle us gently to eat with our hands (an attempt soon forsaken because gravy-riddled hands and incessant Instagramming don't mix).
Of them, the Bharwan Gucchi With Mint Chutney; tandoor-roasted stuffed morrels (I admit, I had to Google 'morrels' like a philistine, but fear not; they are fungi, not testicles) and the Malabar Tenderloin Pepper Fry stood out, both unique and a challenge to the quintessentially North Indian palate. I did, however, find myself finishing a plate of Prawn Rissois, these cheesy empanada-style prawns post main-coursing it, so that obviously speaks volumes for it (and for the fried food abyss that is my stomach).
Of the main course, while the Dal Penchmel served with tadka was a great take on dal, a meat-eater like me didn't pay it the time and attention it certainly deserved. I zeroed in on the likes of the Jamun Butter Chicken (thank God, there was no failed fusion attempt in the mix here—no butter chicken was harmed in the making of this dish), which was unadulterated perfection.
The other thing I found myself reaching for seconds of was the Daab Chingri served in a Tender Coconut; prawns simmered in mustard oil and white onions (also, this legitimately came inside a coconut, so ten points for kitsch).
Throughout my meal, I sipped something called the Gin And Tea Punch, made with a Spiced Earl Grey that managed to ensnare that winter feeling through a chilled drink in a most impressive manner. My plus one swears her Frangi Pani Bellini was a 5/5 (she's often too generous, but this time, a series of unstoppable sips led me to agree with her).
The desserts were, perhaps, the only place I felt Jamun lacking. While the Jamun Kulfi, stuffed with fresh chunks of Jamun and Jamun-infused ice, went down a treat, the other options (a rasmalai and Dry Gulab Jamun) left us wanting. However, I'd chalk it up to being fresh on the scene, and being privy to the fact that their menu is still in progress.
I'd still happily go back anytime, despite not being particularly zealous about Indian food.
Comments
Nearest Metro Station:

JORBAGH