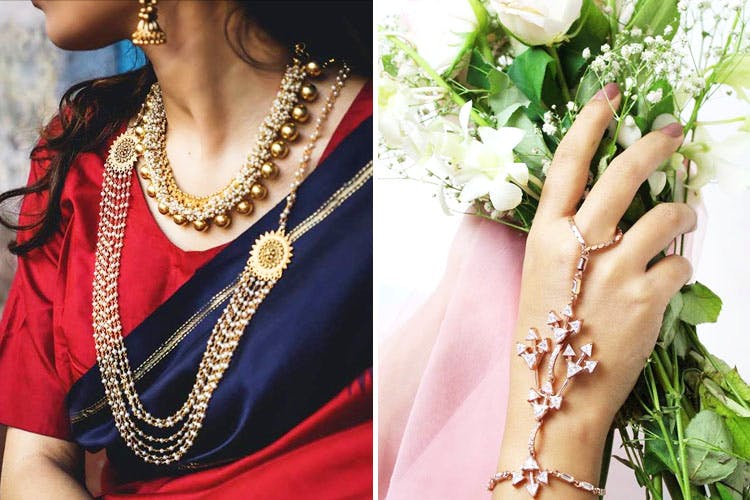 10 Jewellery Stores That We Love For Their Stunning Collections
These jewellery shops in Delhi NCR weave magic with precious metals and stones, and have never failed to wow us with their designs. Is your favourite on this list too?
Amrapali
This Jaipur-based company makes jewellery (mostly silver, plus some that are gold-plated too) that is high on craftsmanship and simply breathtaking. Their pieces are inspired by India's heritage, and gives them a modern, eclectic twist.
Outhouse
The one thing we love about Outhouse is their distinct style. They experiment with designs and materials like Swarovski, semi-precious stones, leather, and metal and gold plating—which eventually leads to pieces looking edgy, dramatic, and very, very classy.
Nimai
Their designs are anything but conventional. They stock handpicked pieces by up-and-coming designers who're giving stunning a whole different meaning. So, you'll find something fresh and beautiful every few months.
Jain Silver Arts Jewellery
An old favourite of ours when it comes to inexpensive earrings, rings, and other trinkets, this store stocks designs, which are hard to find anywhere else in the area. We're forever lusting after their stunning heavy necklaces and pachhelis (think florals, kitschy elephants and filigree work).
Regalia Jewellery House
Regalia is all about sleek, edgy designs in matte-gold, embellished with stones of all colours. They've got dainty chandelier earrings, chunky studs, brass trinkets with understated sheen as well as pretty pieces all in silver.
Apala
To say that Apala is an ordinary jewellery store would be an understatement. They have some of the most unique pieces, and their jewellery is made with silver coated in gold, which is why it's a bit expensive. They use colours in great ways, and the pieces are not like the cookie-cutter artificial pieces at all.
Symetree
From gorgeous, temple jewellery, to gold and silver jhumkis & necklaces studded with uncut diamonds, to chunky statement rings with semi-precious stones, Symetree has quite a variety when it comes to traditional-style jewellery. They even have pieces that are on the lighter side, if that's more your style.
Silverline
You'll find some of the best, tribal-inspired jewellery we've laid our eyes on. While they have some contemporary stuff too, we'd recommend checking them out for their collection of beaded, stone, filigree, enamel, handmade, temple, kundan and polki work jewellery.
The Tiana
Looking for luxury jewellery for a special occasion? The Tiana has beautiful silver jewellery with stunning precious stone-work, think beautiful emeralds or polki work jewellery. Their designs and collections range from traditional Indian to modern and minimal.
Champalal Jewellers & Co.
Champalal Jewellers & Co. is a prestigious jewellery studio that delivers impeccable designer pieces to their customers. They've got everything from intricate emerald and diamond encrusted designs to Jadau and Kundan encrusted jewellery. They also stock all kinds of precious metal you can choose from.
Comments