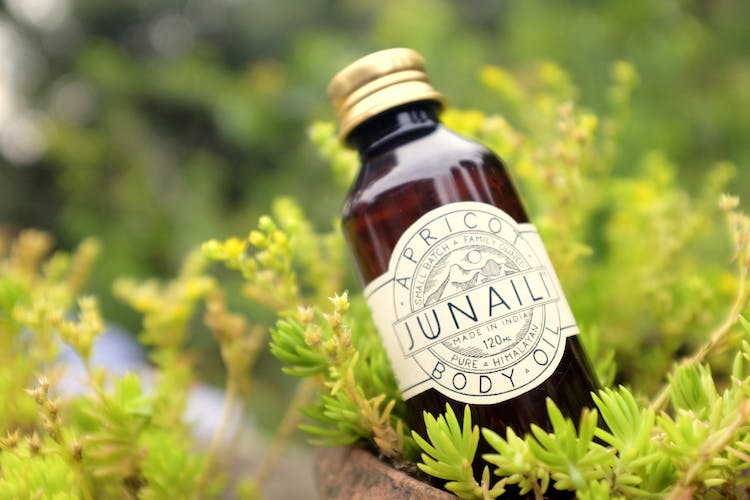 Junaili Apricot Oils & Scrubs Have Us All Shiny And New
Shortcut
Hand-pressed apricot face oil and body scrub made in a Himalayan village, Junaili is only produced and sold in small batches.
Can't Get More Handcrafted Than This
It's barely a secret that we love our hand-made hand-crafted goods, but Junaili takes it more seriously than most. It all began on a farm at Rautakhet in Uttarakhand, where a family had one too many apricots and more than a little perfectionist pursuit on their hands.
The kernels of the fruit are pressed to extract oil without the use of heat to preserve it. The cracked seed is further broken down to produce a scrub. The face oil is mixed with the essential oil of geranium leaf, and while we're told that that means wonderful things in the anti-aging anti-bacterial department, we'll wake up and look for the proof later.
For now we're just basking in the knowledge that hand-pressed means hand-pressed, chemical free means chemical free and we're merrily slathering on the good stuff.
What's Junaili Got To Do With It?
Junaili, in the local language of Rautakhet, means moonlight. We're as much suckers for the packaging as we are for the package, and even the label has been hand-drawn and subsequently digitised for printing.
The amber bottles keep sunlight from damaging the omega chains in the oil and also help in making the oils look very apothecary-like. We love it so much, we'd buy empty bottles just for the packaging.
Sounds Fancy
It isn't and it is. It is our experience that small-batch produced items tend to be inversely proportionate when it comes to cost, but with the 125 gram body scrub at INR 250, we're happy that this bit of moonlight doesn't cost us the earth.
Comments