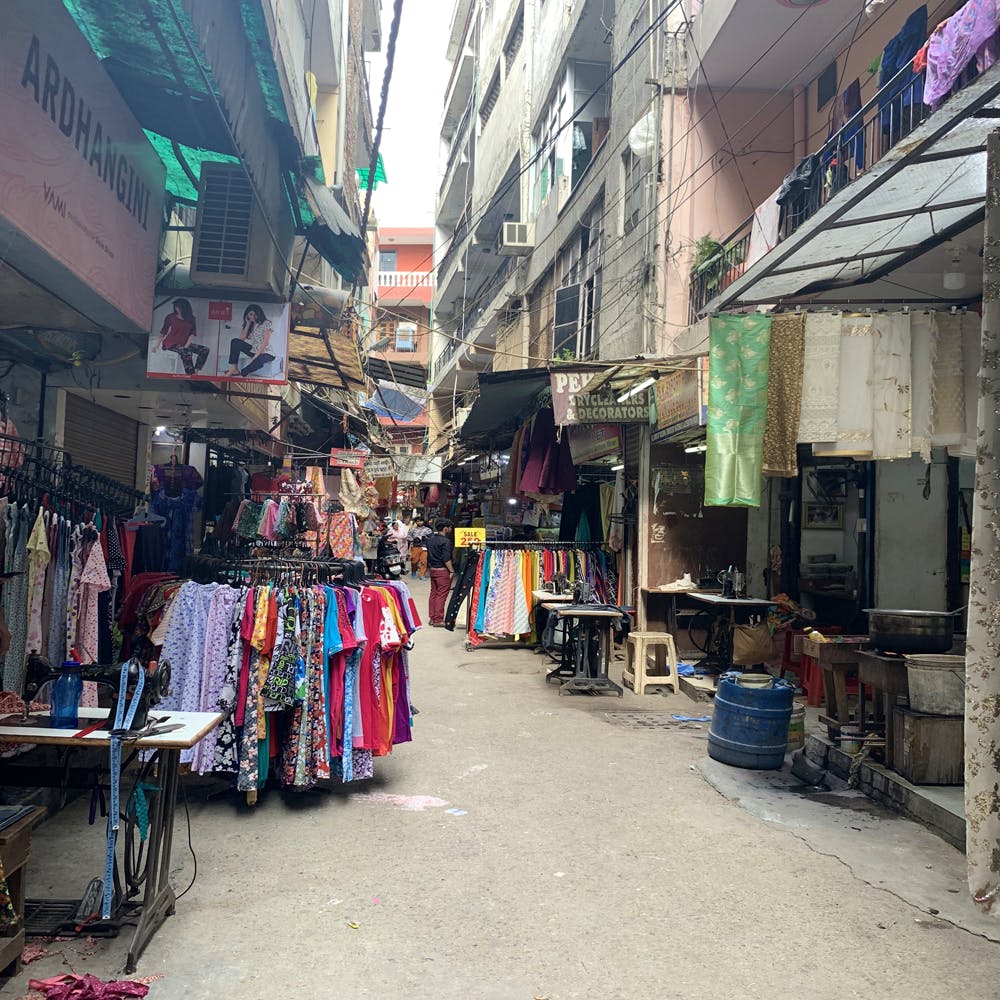 We've Found A Mini Lajpat Market For Ethnic Wear In West Delhi
Everyone loves Lajpat, but, don't you think there will be a time when you would want to move on and maybe shop at a new market? Obviously, we don't mean goodbye forever, but yes, a temporary one won't hurt. So, just in case, if that's already the case and you want to head out somewhere else (especially for ethnic wear), then why not visit Jwala Heri Market in Paschim Vihar?
To make things easier for you, we went on a stroll and found amazing (read cool) places you can shop ethnic wear from in the market. Here are our best finds:
Jazzy Collection
As the name suggests, their collection is indeed quite jazzy. We absolutely loved their collection of kurtis and suit sets, and we thought that the colour palette was quite fresh (think yellows, sky blue, pastel green) and everything was quite subtle (embroidery-wise). Also, best part is, they are quite affordable too. Their kurtis start at INR 700.
They do stitching as well and their stitching charges for suit-sets is INR 1,500.
Jagdamba Dupatta House
If you have a suit-set and you are looking to pair it with a fancy dupatta, this is the place you should head to. With a wide range of dupattas in different fabrics (cotton, chiffon, georgette), we are sure you won't leave empty-handed from here. Apart from dupattas, they also stock leggings in different shades.
Their price range for dupattas starts from INR 150.
Unique Matching Centre
Though it's a matching center, you wouldn't know what is good here until you step inside this little shop. This place also has really nice dupattas that could go well with any of your suits. We specially loved their phulkari ones so, whenever you plan to visit, do check out their collection.
The range of their phulkari dupattas start from INR 450 (light-ones).
Shri
Shri is an ethnic wear brand that has multiple outlets across the city. What we particularly loved about this brand was their suit-sets; we loved the colour tones (think pastel shades, ivory, greys) and mostly, everything was non-blingy. So, if you are a college student or you are looking to buy something for office, drop by.
The price range for printed suit-sets starts from INR 1,999 but, right now, they have a sale going on (buy 2 get 1) so, don't forget to avail this offer.
Aamrpali
Aamrpali is a perfect place to go if you are looking to buy cotton skirts, block-printed dupattas, flared suits, and saris. You will also find a lot of semi-stitched and unstitched fabrics here. Our eyes were stuck at one of their lemon-yellow kurtis that was paired with a flared skirt and was priced for INR 1,850 (which we thought was a good deal).
You will find plenty of stuff in the range of INR 1,000 -1,500.
Balaji Fabrics
Just in case, you are someone who likes to purchase fabric and get ethnic wear stitched just the way you like; we feel this is the place for you. If sales people at the store are to be believed, some of the renowned designers also source fabrics from here for ready-to-wear collection. So, are you going?
Their price range varies. We had particularly liked one of their mul-mul cotton fabrics that had a little embroidery and it was priced for 700/meter.
New Riwaz Lucknowi Chikan Suits
If, just like us, Chikankari attracts you, then trust us and head here. At first, you might not find it alluring to enter but once you go in, it's impossible to leave without spending a few bucks at this place. They have a wide range of Chikankari on georgette, cotton and also had Chikankari pants, palazzos in the same fabric. Plus, the colours are too soothing (think mint green, pastel pink, whites, lavender).
The price for Chikankari kurta in georgette starts at INR 700 and same for palazzos (of course, bargain!).
Sajdaa
Sajdaa was one of the best ethnic wear shops that we had visited. From unstitched fabrics to stitched ones, from daily wear to wedding wear, you'll find it all. Plus, the best part was, the store people do not bombard you with options and hence, there is no pressure even if you don't plan to buy anything (brownies for that!).
We really liked their cotton suit-sets which were available in different summery shades and also priced really well. Their price range for the same starts from INR 790.
Sahil Creations
If you are planning to buy basic, solid-coloured kurtis plus really good-looking suit fabrics, then head here. We particularly loved their fabrics for suit sets; not only the quality was good but, we felt they were affordable too.
Their price range for fabrics for suit sets starts from INR 700 (it's a fixed price shop, just by the way).
Ashmon
Ashmon is a perfect place if you are looking to buy cotton suit-sets, ethnic dresses, skirts, kurtis. You won't find a lot of stuff here that has embroidery or heavy work on the garments (and that is what you do not need in summers) but you'll be spoilt for choices when it comes to selecting your favourite print (because they have got tons of them). So, good luck!
The price range for cotton suit-sets start from INR 700.
Palki Creations
Palki Creations is one such place where you will find unstitched suit-sets, lehengas, and a lot more, and trust us on the prettiness. We were a fan of the colour combinations they had to offer and we also loved the subtle embroideries on the garments they had.
The price range for their unstitched suit-sets starts from INR 800.
Sangini by Meenu
With a range of kurtis available at this place, you might find exactly what you need here. What's best about this store is that you'll find blingy ones, non-blingy ones, embroidered, and ones in solid colours too. Also, we really like their range of dupattas too, so if you are there, check that out too.
Their price range for kurtis starts from INR 500.
Simar
Simar is another ethnic wear store that we felt is amazing because they've got a wide range of suit fabrics. It's a two storey store where on the ground floor, you'll find suit fabrics, while on the top floor, you'll find dresses, saris, and much more.
Their price range for suit fabrics starts from INR 850.
Noopur
This is another great place for daily wear suit-sets, saris, wedding wear, etc, and guess what, they currently have a discount going on (up to 50%) on their kurtis and they also have a special offer going on, on their silk saris (in case, you want to stock up for winter).
Their price range for unstitched suit-sets starts at INR 700.
Comments