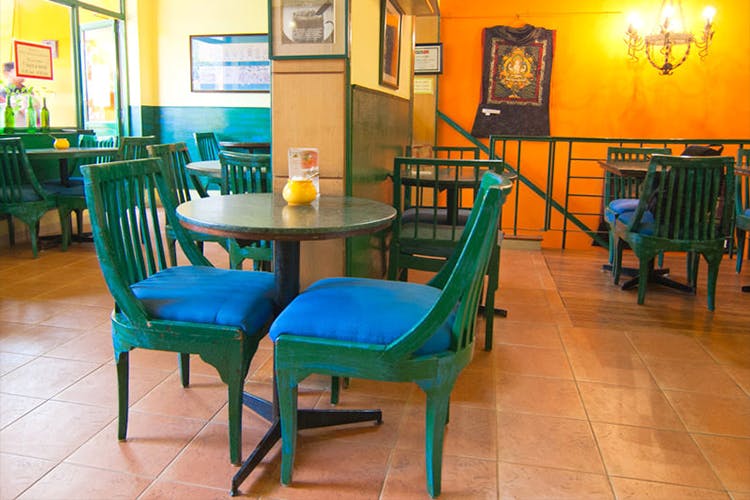 Time For A Break: Head To These 10 Khan Market Cafes For Coffee & Snacks
There's nothing a good cup of coffee can't cure. Settle in with a good book or take one for the road, here are the best Khan Market cafes serving the freshest coffee, all day, erryday.
Latitude 28
Coffee dates take the front seat when it comes to this super pretty cafe. Settle in, let the minimal decor and cosy vibes surround you. Preferably, opt for a seat on the balcony while you sip on their delicious iced coffee. Pair that with a delicious, healthy salad and your taste buds (and your date) will thank you.
Cafe Turtle
Low cal salads, all-day breakfast, and coffee as smooth and delish as it gets, Cafe Turtle checks all the boxes. With a load of books surrounding you, pick a delightful read, order a hot cuppa, and you've got yourself a tranquil evening. You can't afford to miss out on the South Indian Filter Coffee here.
Perch Wine & Coffee Bar
If you're not in the mood to order something from the cellar, their coffee makes for the perfect alternative. You'll find a long list of brews to choose from, so we recommend trying something new like the Syphon or the Coffee Shrub With Tonic. They're open till 12 am, so a post dinner coffee seems to be on the cards.
L'Opera
A petite patisserie with cakes, tarts, and chocolates to die for, l'Opera knows what goes best with a good, hot (or cold) cup of coffee. Pair your hot coffee with the coffee tart for a hot-plus-sweet caffeine hit. Or their legendary Millefeuille. You might have to scramble for a place to sit, but it'll be totally worth it.
The Blue Door Cafe
Breakfasts were never better! The Blue Door Cafe opens its doors at 7.30 in the morning, so your early morning coffee can be done justice to. Pop in through their (literal) blue door for a quick sip 'n' bite or take away your caffeine for the road. Their Affogato is the clear winner. Don't forget to treat yourself to a fluffy pancake or a crispy waffle.
The Artful Baker
Croissants, macarons, cookies, and coffee – there's plenty at The Artful Baker to lure you. Get your caffeine hit on a lunch break or on your way to work, this place opens at 8am and serves soul-pleasing coffee throughout the day. There's limited seating here, best to head here during the early hours.
Yellow Brick Road By Taj Vivanta
This one's not technically in Khan Market but it's walking distance all right. Open 24 hours, Yellow Brick Road knows that coffee cravings know no time. The sunshine-y yellow interiors never cease to brighten up our day (or night). Sip on a hot or cold cup of your choice and don't forget to gorge on their delightful food.
The Big Chill Cakery
Bright, pretty, and a hub of all things sweet, The Big Chill Cakery knows what goes best with a rich cup of coffee. The Big Chill folks hit home for anyone with a sweet tooth and a hankering for a fresh, hot brew. Get their chocolate cupcakes (because who eats just one?) or mixed berry cheesecake to go with the flawless coffee and you're golden. It's a small space with limited seating, so you might have to wait for your cuppa a bit.
Civil House
A blend of vintage and floral interiors rule this place. The wooden furniture and hanging lights make this place the perfect spot for a romantic coffee date. Espresso, latte, mocha – they've got it all. Try to look for a place in the balcony amidst the flower pots and the rustic beams for a movie-like ambience for your caffeinated escapades.
The Coffee Bean & Tea Leaf
You can never go wrong with coffee and hot chocolate at The Coffee Bean & Tea Leaf. In case you want to grab a quick bite, this cafe also does killer potato wedges, mixed sauce pasta and garlic bread, all of which, we highly recommend that you should try.
Comments