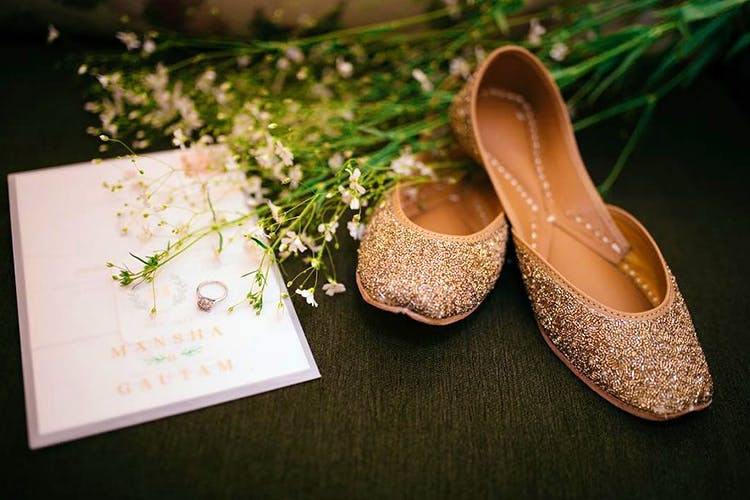 Kick Off Those Heels & Opt For These Pretty Juttis For Your Big Day Instead
Juttis are versatile and look great, combining fashion and comfort in the true sense. From Swarovski studded ones to zardozi embroideries, handcrafted to thread motif, there's a plethora of jutti options available. No matter what the occasion, you can easily find the perfect pair from these brands we've picked out.
Needledust
Almost known as the pioneers of handcrafted leather juttis, Needledust is definitely one of the best in the industry. From Swarovski-embedded to basic prints, all their juttis come with memory foam. Located in Shahpur Jat, they've recently come up with a 'mom and me' collection for you and your little one.
Shop here.
FizzyGoblet
Giving a modern twist to traditional juttis, Fizzygoblet has shoes for everyone. The best part about their collection is that you don't have to always wear them with Indian clothes – you can always pair them with a simple t-shirt and jeans. Along with juttis, they also make loafers, brogues, and sneakers.
Shop here.
Vian Label
They're passionate about footwear, and it shows in their collection. They quickly became popular for their fresh designs. Vian Label has the nicest floral designs, perfect for summer weddings.
Shop here.
Purely Lush
Gota, kundan, zardozi, and hand embroidered, Purely Lush offers the prettiest range of juttis. They assure exclusive designs and premium quality.
Shop here.
Coral Haze
A brand of Rida International, Coral Haze offers a collection of designer, handcrafted Punjabi juttis and is famous for its Victorian-style prints. They're pretty comfortable, even if you're wearing them for hours and promise no foot sores.
Shop here.
Jutti Choo
With summer blossoms on their Punjabi juttis, Jutti Choo's seriously taken inspiration from Jimmy Choo to create a fantastic range of Indian footwear. We're sure you'll love their stuff as much as we do.
Shop here.
Loveforjutti
Royal combinations and handcrafted detailing are the two things Loveforjutti is famous for. Their designs are unique and really stand out, so we recommend you don't let them get hidden by your lehenga!
Shop here.
Anita Dongre
When a designer like Anita Dongre introduces juttis, you know they'll be nothing short of spectacular . With dream-like embroideries in multiple hues, these give the perfect edge to any outfit. The best part? They're available for both men and women.
Shop here.
Juttigram
Juttigram is the 21st Century luxury accessories brand with juttis at its heart, offering an impeccable sense of glamour, and a playfully daring spirit. Inspired by the heritage and culture of Punjab, their stunning collection of traditional Punjabi Juttis has a contemporary twist to it.
Shop here.
Pastels And Pop
Beautifully handcrafted juttis in vibrant hues, Pastels And Pop pays such attention to detail, we love how intricate and dainty their juttis are.
Shop here.
Comments