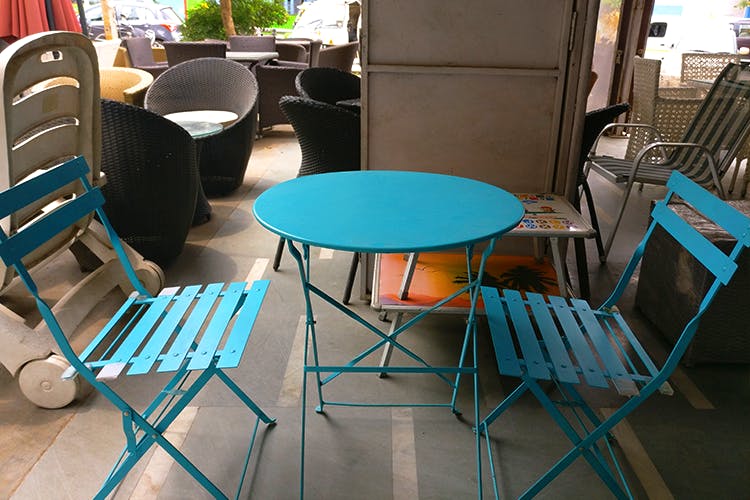 Check Out Kirti Nagar Market For Beanbags, Tables & More At Great Prices
If you've ever tried to look for furniture in this city, you are bound to have come across that person who would suggest shopping in Kirti Nagar. You would take their advice and reach, only to find yourself utterly lost, walking amidst shops that look alike, and soon you would become frustrated, and end up ordering online. Well, I can assure you that all hope is not lost. We found some places that could end up being just what you were looking for.
The closest metro station to this market is the Kirti Nagar metro station on the blue line. It'll take you around 10 minutes from the metro station to the main market, and the autowalas will know exactly where you need to go.
Remember, the market is pretty big and we suggest that you cruise through the entire market before you finalise anything.
Manku Furniture
In the larger square within the market area, you'll come across Manku furniture, where all your table requirements will be met. They have a fairly large collection of study desks/tables, computer tables, and reception tables. Started in 1974, by Sardar Baldev Singh, this store is the perfect antidote for the student on the hunt for that perfect desk to get the creative juices flowing.
Price: Desks start at INR 6,000
Akarshan Store
Choosing a mattress is sometimes like choosing the person you want to spend the rest of your life with. You need one who will be able to take all your nonsense, one who would understand, and yet after the worst day imaginable provide you with a comforting embrace. I don't want to oversell a mattress, but you must visit Akarshan Store to believe it. I almost fell asleep trying out one of their premium foam line-ups. Imagine a cloud gently caressing your back while angora rabbits snuggled against you. You'll find Akarshan smack opposite to Durga.
Price: Starting at INR 2,000 (enquire about offers)
Furniture Point
If you have some money saved up, and you're planning on refurbishing your house, making Barney Stinson's house seem like a garbage dump, Furniture Point is the place to be. The owner is one of the nicest people I met on my trip, and he'll personally take you around to show you what makes the quality of his furniture different. His store stocks everything from a chest of drawers, to rocking chairs, all created with an idea of balancing a unique design with the best quality. They also specialise in study tables, and consoles.
Price: Products start at INR 9,500.
Art Effects
No house is too posh, or too humble for a splash of pizzazz. You'll find yourself drawn to Art Effects, without my suggestion, whilst walking through the furniture market. This furniture shop in Kirti Nagar specialise in beanbags, but they do so much more. There are hand shaped bar stools, light wooden table tops, on metallic rungs, small sized poufs, self-standing lantern shaped lamps, Buddhist water fountains and so much more! Even if you bought a single item from here, your house would never be the same again.
Price: Beanbags start at INR 300
Durga Outdoor Furniture
If you're a person looking for all-weather proof furniture here in Kirti Nagar, for your lawn or terrace that maybe you'd like to convert into a space to take your morning cup of tea to. Or because you'd like to give a sense of the outdoors, inside your house, look no further! Durga Outdoor Furniture is packed to the brim with weather proof furniture, which have a certain aesthetic appeal to them. From beautiful blue chairs, and round blue table to match, to outdoor recliners, this store has the best bang for your buck.
Price: Chairs start at INR 2,000
Idom
At Idom you can shop for a lot of sophisticated indoor furniture. Whether it is grand tables, couches, pretty sofas and consoles, they've got everything. We really liked that their furniture gave off very fancy vibes and maybe a piece or two from this store could definitely add that spark to your space.
Price: 22K and above for a pair of two chairs
Alaknanda Furniture
The folks over at Alaknanda Furniture guarantee good quality Nagpur Teak wood (Sangwan) for each one of their pieces. Which is why you can expect to see a lot of unpolished tables, chairs and other furniture kept at their shop. Their pieces are only polished on order, so that you can inspect the wood before ordering it to be polished.
Find rocking chairs, bedside tables, and pretty wooden showpieces at their shop! A pair of their chairs will cost you around INR 6K.
Wood Creation Home Decor
At Wood Creation Home Decor is a good place to shop for slightly more trendy furniture pieces. Perhaps something like a set of bright yellow chairs to add a pop of colour to your home. Other than this you do get the usual good quality teak/Nagpur Sangwaan at this shop as well.
Price: INR 12K above.
K.K Talwar Fabriks
K.K Talwar Fabriks, just as the name suggests is an upholstery showroom. It's quite large and there are rolls and rolls of fabrics they've got lined up. You can find anything from jungle printed fabric to plain, and basic-coloured fabrics as well.
Price: INR 1,500 and above.
Style Furnishers
At Style Furnishers you can find you can find a lot of fancy pieces. Meaning, they customise/build and sell home bar shelves. Apart from these, you can shop for furniture like dining tables and side tables here with marble tops (or made mostly of marble). You can get a lot of the usual television, and entertainment system shelves.
Price: INR 1,750 and above.
Shekhawati Furniture
Shekhawati Furniture is undoubtedly one of the best furniture places for teakwood furniture in the entire Kirti Nagar furniture market. They only specialise in wooden furniture, and you cannot go wrong with a business specialising in one thing in particular.
Here you can find elegant wooden chairs, dressers, and book shelves with traditional Rajasthani nut/bolt work done on them and much more for about INR 7K and above.
Arnero
You should go to Arnero for their massage chairs. This is probably the only shop in Kirti Nagar that specialises in massage reclining massage chairs. You can find them in prettier colours like tan browns or mustard yellows. Aside from all this you can get side tables and regular furniture like chair, tables etc.
Price: 22K and above.
Comments