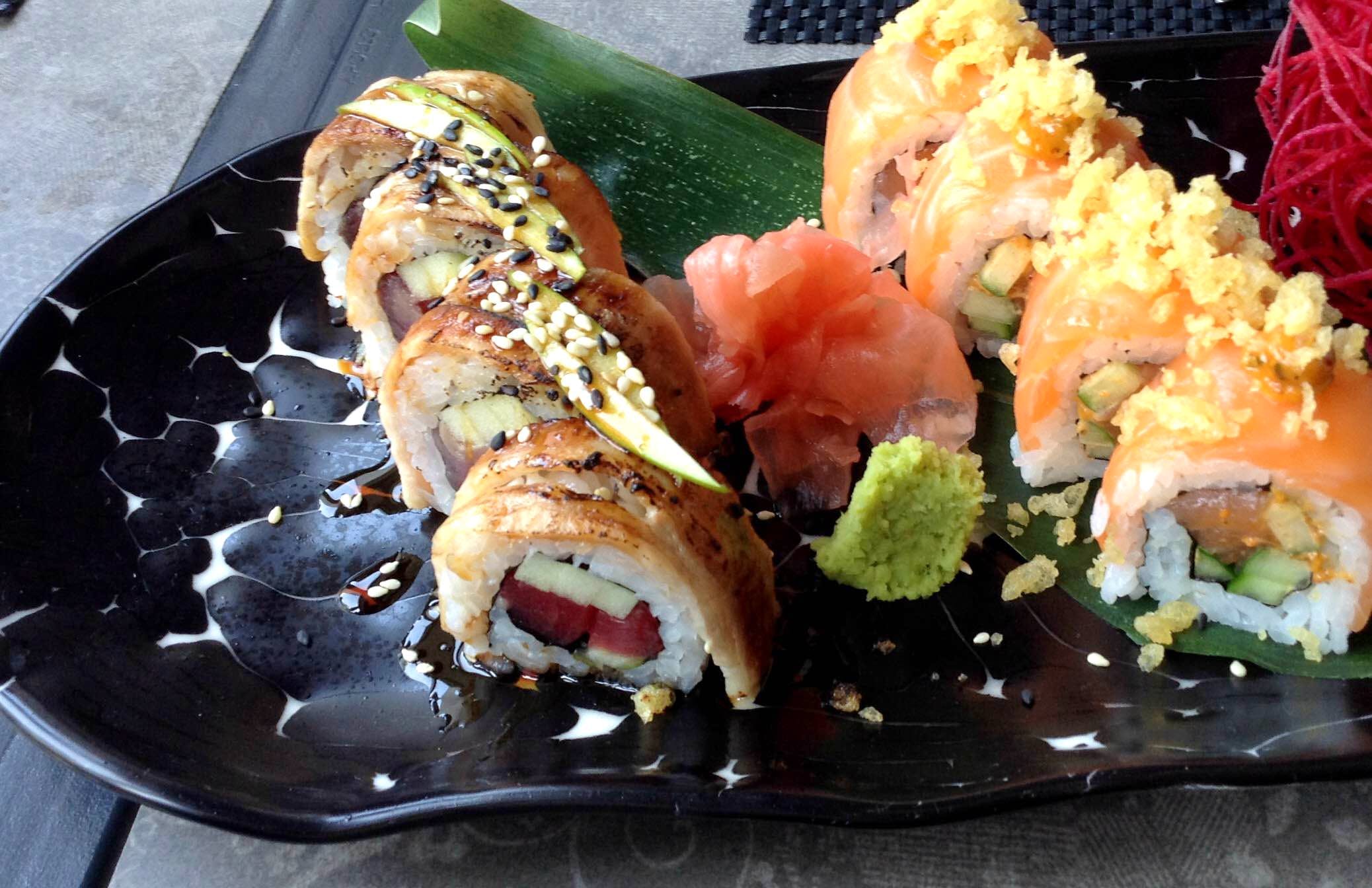 Nearest Metro Station:

NEHRU PLACE
Let the Good Times Roll: Relish Japanese, Asian & Other Cuisines At Shibuya
What Makes It Awesome
It's cherry blossom season and the ceiling at Shibuya is blooming with these delicate, pretty pink beauties. Teal and rust interiors make for a sure spiffy atmosphere and the al fresco balcony space is air-conditioned, bringing the outdoors inside. Shibuya is the newest Asian restaurant in this part of town and is an interesting blend of comfort food and contemporary flavours. Service is prompt and polite, pitching Shibuya in a fine-dine space without fine-dine price points. The menu is concise and packed with some very interesting choices, from Shoyu Braised Mushroom Okonomiyaki to Salmon Red Curry Ceviche. The food influences extend across Asia, centring around Japan, making the menu fairly well rounded and satisfying.
What Could Be Better?
Considering the establishment is brand new, they've got their food & beverage and service game pat down! Here's to hoping the stellar experience remains consistent.
What's My Pro Tip?
Since Shibuya is nestled in a buzzing market, there is plenty of parking. The concierge on the ground floor will ensure a table of your choice is available, depending on how busy the restaurant is and since Shibuya is on the first and second floors, there is an elevator too. Start with the Korean Fried Chicken and Char Siu Pork Ribs but keep space on the table and in your tummy for some of the finest sushi this side of town. Do not miss the Surf & Turf Roll, which brings together two of the finest things on earth - tuna and pork belly with a slather of yakitori sauce, you have to eat it to believe it. They also have the usual, Rock Shrimp Tempura, Spicy Salmon Rolls, all done really well! For a break before a feast, add a box or two of dimsum, the Truffle Edamame are spectacular and so are the Spinach Wrapped Prawn Dumpling. For the main course, you could either go the Ramen way in which the Shibuya Braised Pork Ramen is a true pleasure of keeping the weather in mind, make it a Poke Bowl and try the Spicy Salmon Poke. For a nostalgia trip go the fried rice and curry way, the Bacon & Mushroom Fried Rice is a must have, pair it with Stir-Fried Asian Greens with Tofu and Cantonese Style Steamed Seabass and enjoy! The pinnacle of this meal is their signature dessert - Shibuya Honey Toast, a decadent and perfectly baked brioche with banana caramel ice cream, and a topping of Nutella.
Anything Else?
Shibuya also has a rooftop bar with a completely different vibe. Chic and cocktail-centric, it's more of a grown-up space where you can order food from the downstairs menu and artisan cocktails to go with it!
Comments
Nearest Metro Station:

NEHRU PLACE