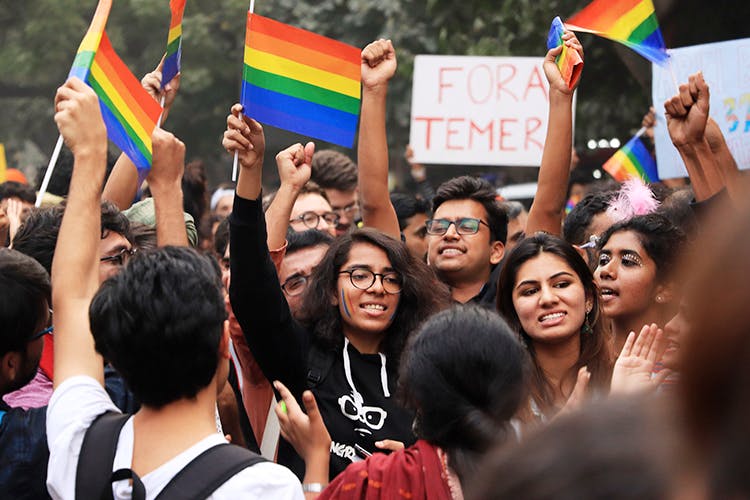 Discuss, Chill & Grow: These LGBTQ Support Groups Will Have Your Back
Everyone deserves to live a life without fear, to be able to express their opinions freely and have someone to turn to in times of crisis. We asked around, did our research and found five support groups that make Delhi a safe and colourful space for those within the queer community.
Nazariya
Formed in 2014, Nazariya is a queer feminist resource group based out of Delhi. They work towards addressing issues and concerns of Lesbian Bisexual Women and Trans people assigned female at birth. This group organises a lot of events like film screenings, book launches, workshops and talks where one can meet like-minded individuals, discuss issues relating to gender and sexuality and expand one's horizon in ways unimaginable.
They also have a helpline number (+91-7291012585) so you can reach out to them from Monday to Friday between 10 am to 6 pm.
Naz Foundation
Naz is one of Delhi's oldest organisations that has played a key role in spreading awareness about matters relating to HIV/AIDS and other sex-related issues in India. Over the years, they have supported various causes and communities, one of them being equality for the members of the LGBTQ community.
They also run a helpline number and people can even visit their office in East of Kailash for counselling sessions and any kind of support.
Harmless Hugs
Started in 2012 by Vinay Kumar, Harmless Hugs today is a community with more than 7.5k members across India. With a focus on community building, this group hosts a variety of informational and exciting events throughout the year like the Queer Holi event, the Delhi International Queer Theatre and Film Festival (DIQTFF) and the LGBTQ Flash Mob. On a bi-monthly and monthly basis, they also organise workshops and Harmless Hugs meets. In case of medical or legal emergencies, these guys can also connect you with a number of NGOs they're associated with.
Follow their Facebook page to stay updated with all of Harmless Hugs' events.
The Bi-Collective
The Bi-Collective Delhi is a voluntary support group. At the moment, they do not have a helpline but you can always write to them at bicollectivedelhi@gmail.com for information, access to books and general questions regarding bisexuality. They'll soon make their collection of resources (brochures, reports etc,) received from bi-resource groups in the US public.
The Bi-Collective also hosts meetings occasionally where they discuss issues related to bisexuality. In case you wish to be a part of these meetings, you can message them on Facebook or write to them.
The Humsafar Trust
Humsafar Trust is one of India's oldest organisations that has been advocating for the rights and the health of LGBT individuals in India since 1993. Twice every month, they host meet-ups and workshops to bring the community together and socialise. Apart from this, the good folks at Humsafar also provide legal and psychological aid to those in distress. In cases of extortion, blackmail, or to help you through the 'coming out' phase, these are the people you can trust without any qualms.
Helpline number: 011-46016699
With inputs from Noor Enayat.
Comments