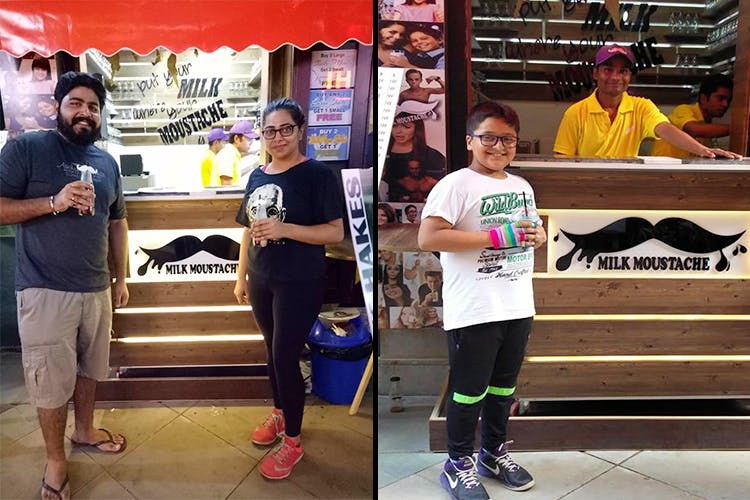 Nearest Metro Station:

HUDA CITY CENTRE
This Little Kiosk In Gurgaon Serves 26 Types Of Ice Cream Rolls & Milkshake Desserts
Shortcut
Think milk and everything delicious you can make with it – that's what the Milk Moustache kiosk is about! They have ice creams, shakes and teas for a one-stop refuel pit-stop.
They See Me Rollin'
Having a bad day? Weather getting to you? Or you just need a sugar high? All of that can be taken care of with Milk Moustache's Thai Ice Cream Rolls. Choose from fruit, desi flavours and the regular coffee or chocolate.
Flavours to look out for? We loved Popcorn On The Go but the flavour of these crimson hazelnut popcorn rolls is hard to put into words! The same is true for the Boom Boom Boomer which is the named after the popular, nostalgia-inspiring bubble gum.
Coming to the Indian variants, there's Kaala Khatta which is more sorbet-like and the Gulab Jamun Daawat – a whole Gulab Jamun is rolled into a delicious ice cream roll. If you're not one for experimenting, try the Nutella Tales and Snicker Pie Fun; they have 26 varieties of rolls, in total.
Shake It Off
The shakes are just as unique as the rolls and we loved the Berry Fusion which has berry mixers but none of the artificial taste, and the Banana Sizzle which is both healthy and delicious!
They've also launched something they call 'Shake Meals' which are like milkshake desserts. If you're a coffee person, try one of their wacky cold coffees as well, in unusual flavours like Hungry Peach and Rich Mandarin.
So, We're Saying...
Next time you're craving dessert, stop by Milk Moustache.
Comments
Nearest Metro Station:

HUDA CITY CENTRE