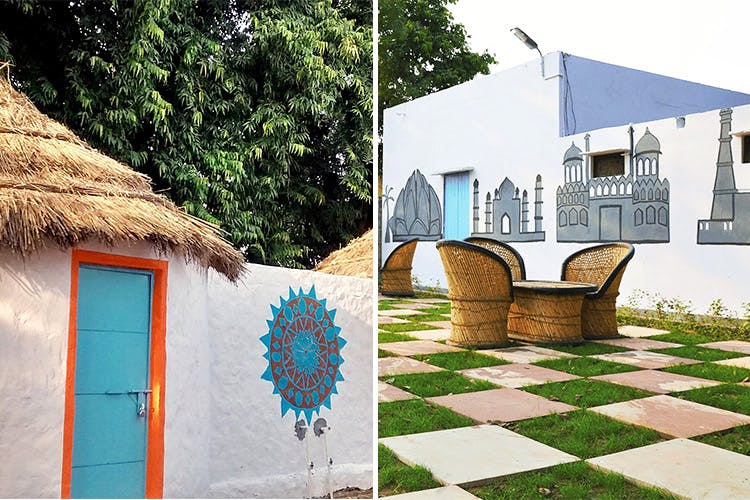 Live The Farm Life & Eat Organic Meals At This Retreat Less Than 2 Hours Away From Delhi
Shortcut
Casa Delhi is an eco farm retreat near Faridabad that offers healthy organic meals, lets you stay in mud huts, experience the farm life through activities like cow milking, pottery and even hosts meditation classes. Basically, it is the idyllic weekend getaway every city-tired soul who is short on time (or leaves) could do with.
What Makes It Awesome
Living in cities can be frustrating, and not being able to escape the city grime once in a while can be far worse. Thankfully, the lovely camps and retreats that have emerged around town in the past couple of months are making things a lot easier, and one such eco-retreat is Casa Delhi (more great options never hurt, right?).
Set approximately 40 kms from Delhi in the midst of lush green pastures, peacocks and butterflies, this self-sustaining farm is helping people experience the good, countryside life. You can milk cows, pick organic fruits and veggies for your fresh vegetarian meals, get your hands dirty at their pottery classes and meditate away to a zen mode with help of their certified instructors.
Casa Delhi offers village style eco-huts (both private and shared) that look and feel every bit pastoral, but come with all the comforts we love about home like WiFi and attached bathrooms. It's also fancy in the sense that they've got a common plunge pool, a lounge bar (woot woot) and even a badminton court. They're more than happy to organise movie and game nights upon request, but we'd actually be more excited about the Bollywood dance classes that your whole family can take (hey, dance is a killer way to bond). Bird-watching sessions, mustard oil tours, local school visits and cooking classes are other fun ways through which you can keep yourself occupied at this farm.
What Could Be Better
Casa Delhi only serves organic vegetarian meals, so that might be a bit of a bummer for all meat-eaters.
Pro Tip
You can go here for day trips too, but we recommend that you spend a weekend to best experience a bit of everything this farm has to offer.

Comments