The information in this post might be outdated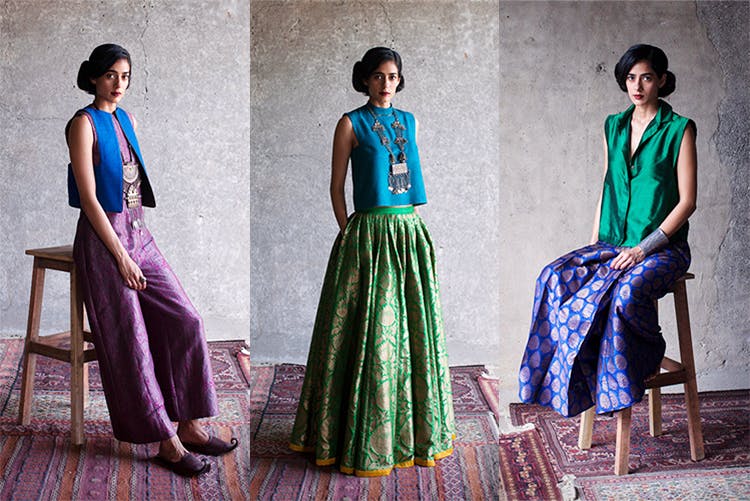 Lookbooks We Love: Payal Khandwala
If we were princesses, Payal Khandwala would be our dressmaker for life.
Her clothes are relaxed, yet regal; effortlessly blending antique fabrics with modern draping and silhouettes. This limited edition collection has us pyjamas by the proverbial nadas because we can't figure out which garment we love the most and must make ours for life.
Verdict: All of them, we love all of them.
While we are usually the primary proponents of #AllBlackErrything, when it comes to traditional clothes, we agree that it's not a real Indian outfit unless it involves a riot of colours, textures, and extravagance. But, we still like our clothes #pyjamastyle, which means they have to be easy to wear and comfortable.
For ethnic wear that's neither over the top nor too simple, we turn to Payal. All her clothes have a way of bringing together the melting pot of old and new that is India today, but this collection is especially so. It is an appropriate homage to the ancient that seems to march on forward into Indian fashion's future.
The clothes are as beautiful as Beyonce and as chilled out as Willie Nelson; the fabrics as luxurious but styled subtly. Succinctly what we have to say about this collection is:
About the designer:
After founding her brand in 2011, Payal Khandwala launched her brand's flagship store in 2014. Before this, she studied Fine Arts and Fashion while living in New York and Barcelona. She works with handwoven silks, khadi, cotton and linens in "a palette that is rich and soaked in a tradition of colour."
See more of her work on her website and follow her on Facebook, Instagram and Twitter.
This article first appeared here on 27th Nov, 2015 on the Pyjama People ezine. See more of their work here.
Comments