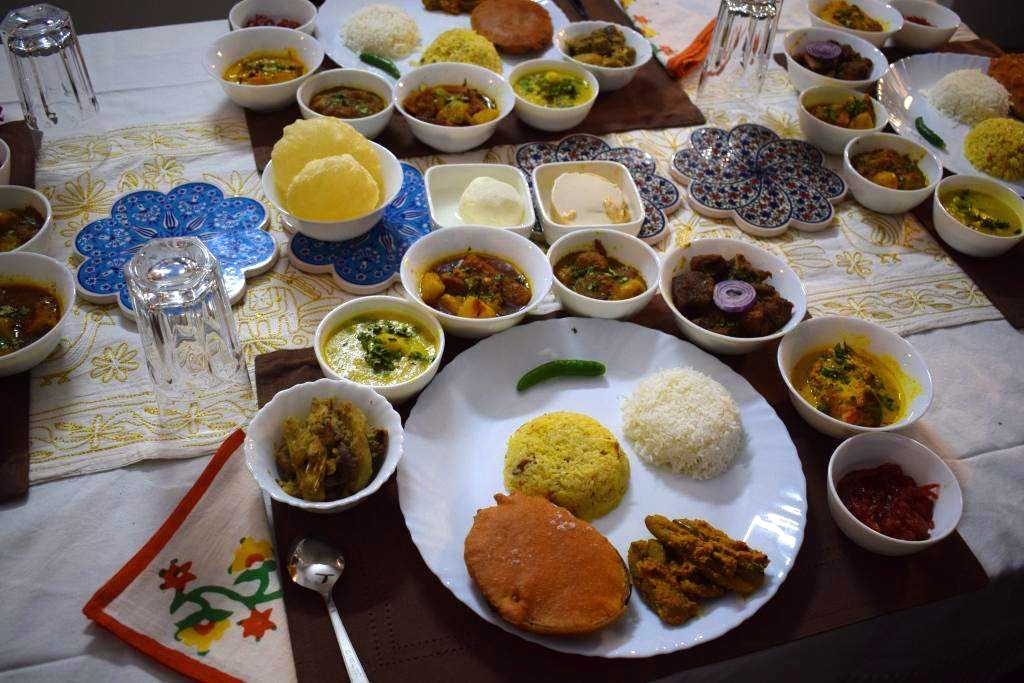 Craving Home-Cooked Food? Call Moushumi To Relish A Delicious Bengali Platter
What Makes It Awesome?
Among the few women who have kept the traditional dishes alive in whichever corner of the world they find themselves in, Moushumi Lahiri Moitra is an astrologer and an excellent chef. If you are like me and know very little about what a true blue Bengali eats at home, then you have to try the platter she created for a group of four. With her two soldiers, Shankar and Usha didi, she can make you lick your fingers till all the bowls are empty. So, we began this sumptuous lunch with beetroot chop with kasundi. This freshly made mustard dip is unique to Bengali homes, and I am certainly going back to get the recipe. For those who want their eggs done differently, there was Dimer Devil, which is boiled eggs and potatoes, quite a devilish mixture that can be a meal in itself. We downed this with lemonade made the Bengali way—very light and slightly on the sugary side. You might want to take a little walk around the neighbourhood before getting on to the main course, which was a feast. A healthy mix of meat, fish, veggies, fried bread, and rice, it would be best to take small portions and try a bit of everything. And then dig into the dish you liked the most. Going with the veg: there was Shuktoni (mixed vegetables and karela). This will redefine the way you eat karela in the north of India. This is best eaten with boiled rice as a palate cleanser. It didn't taste as bitter because Bengalis use a tad bit of sugar in all their dishes. There are many things that can be done to the regular dal and you will realise that when you take spoonfuls of the rest of the dishes lying before you. Mooger or moong dal cooked with cauliflower, Motorshuti or moong dal with vegetables, and Dhokar Dalna or chana dal soaked for a few hours, ground with spices, steamed and cooked with potatoes. This can make you say goodbye to the traditional vadi. Added to this was Dum Aloo cooked the Bong way and Potol Posto or the good old parwal in poppy seeds. Of course, the famous Luchi was there. But there was also Beguni, which is a large slice of fried brinjal coated in besan. For mutton lovers, Kosha Mangsho added the flavours. And I simply loved the mustard fish aka Sorshye Maach. The tomato and date chutney added more zing to this large meal. And as if the Mishti Pulao or sweet rice cooked in milk and loaded with nuts wasn't enough to please the sweet tooth, Moushumi served us mishti doi and soft rosgollas.  After this lavish platter, we needed that hot cup of green tea. Do dress up, for you won't find Moushumi in her apron. Be on your best behaviour, and she might tell you some nice tales from her travels around the world and being the wife of a serving UN officer.  Veg thali: INR 1,000 per person Non-veg thali: Rs INR 1,300 per person She prefers a group of four to six as that is comfortable seating and you need to inform her two days in advance with a minimum of three people. Lunch is preferred; dinner can be done only for special guests. No alcohol, if you need wine and beer, you need to pay extra for that.  Best not to bargain for this is a home meal, cooked especially for you in an absolutely hygienic manner and with fresh ingredients.
Comments