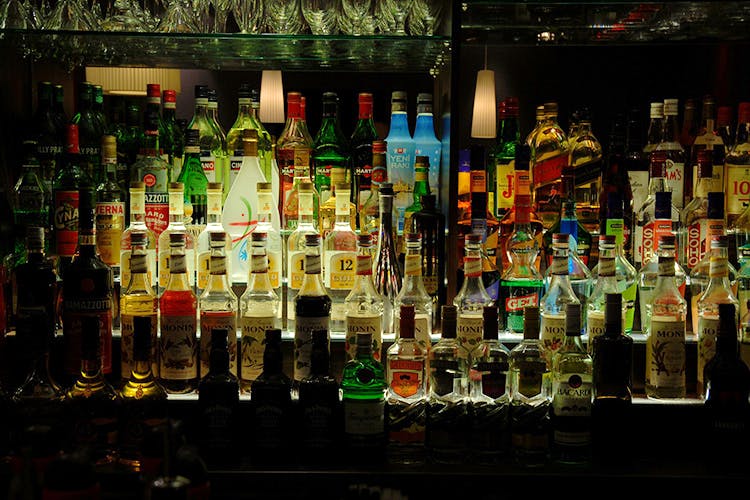 Butter Chicken Lovin' At Lord Of The Drinks Chamber
Shortcut
The third and the newest outlet of Lord of the Drinks brings all the same elements under a bigger and better space, while still maintaining the quality it's known for.
Chow Down
Gilafi Mutton Seekh Anda Parantha, Baked Butter Chicken Penne
Sip On
Mango And Chilli Margarita, Adams LIIT
Winning For
LOTD Chamber scores full points for maintaining the same old quality and expansive space
No Chamber, No Secrets
They might be calling it chamber, but there is nothing here that actually gives you that vibe. That being said, we do still love how well the 3-floor setup has been designed. Armours, rapiers, and other medieval props adorn the walls, and yes, they have the Iron Throne here, too.
Butter Chicken Madness
Considering the restaurant is in Rajouri Garden, a place which is high on Punjabi culture, this place strikes just the right chord. While the menu offers world cuisine with some of the best cocktail options, it is the dedicated butter chicken section on the menu that really wins everything.
Garlic Dipped Croutons Butter Chicken Fondue, Baked Butter Chicken Penne and Butter Chicken Sliders are just some of the offerings here which are perfect options for all the Punjabi foodies in the area. Two other things we really liked from the food menu were the Spanish Pizza and the Gilafi Mutton Seekh Anda Parantha.
For those bored with the classic cocktails available everywhere, the Adams LIIT and the Mango & Chilli Margarita make for some great potent picks.
So, We're Thinking…
There might not really be a lot of change in the menu or the space, but LOTD Chamber is a great new addition to the bustling food scene in Rajouri. It just adds another great option that you can choose from when you're looking for a sure-shot Friday night pick.
More Information
Lord Of The Drinks Chamber
Wi-Fi Available

Nearest Metro Station: RAJOURI GARDEN
Comments