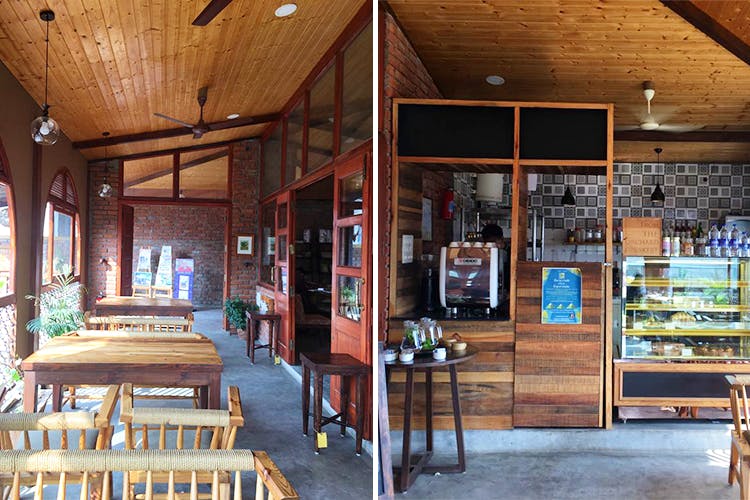 Love Art And Tea? This Design Studio & Cafe In Doon Has Both
Shortcut
What started out as a design studio gradually turned into a cafe and a hub for artistic activity. The Tea Room at Alaya is doing different kinds of tea and is known for hosting talks and exhibitions for designers and artists.
Cake, Kahwa And Art
Started by Richa and Josh, who both come from design backgrounds, the drive up to the cafe will take you just out of the main city and a bit closer to the hills. Done up completely in brick and wood, the rustic cafe offers stunning views of Mussoorie in the distance. Alaya, the design studio has been around for a while now – close to ten years, they recently started The Tea Room and began serving various kids of tea and snacks to make the whole experience more enjoyable.
Their efforts paid off, the The Tea Room quickly became popular for their pretty decor and serene surroundings. Sip on a cup of Kashmiri Kahwa and dig into their peanut butter cake, while engaging in conversation with fellow designers and artists. They also have an organic store, where you can pick up their teas, soap and other products. They have a lot of exhibitions and talks with visiting artists and authors (they recently had one with Ruskin Bond).
So, We're Saying...
The next time you find yourself in our favourite valley, check out The Tea Room for some good tea and maybe bump into some interesting folks here.
Comments