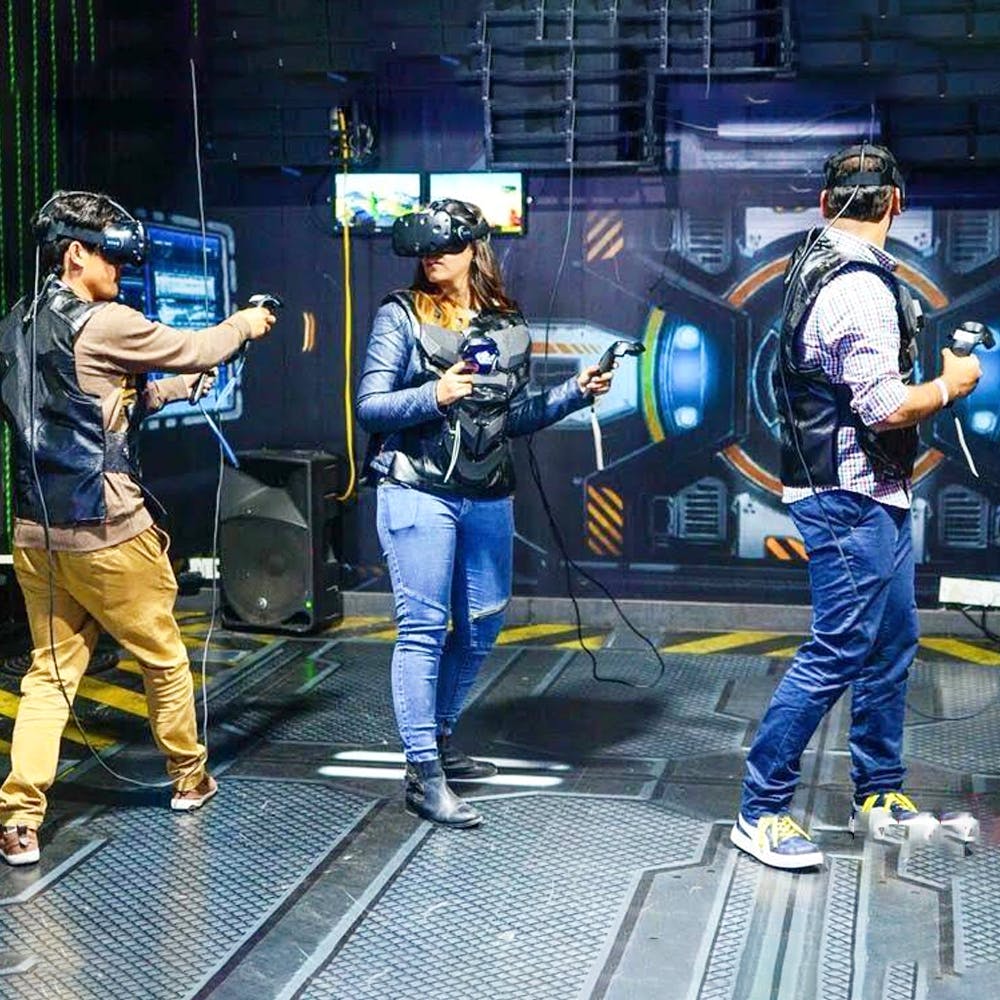 Check Out These 8 Gaming Spots For Bowling, Mystery Room & VR Games
Gaming (professional or casual), is fast emerging as one of the biggest entertainment industries around the world, and the fever is fast catching on in the city, too. Many gaming spots in and around the city offer versatile options for gaming and indoor sports, and here are our picks.
Mystery Rooms
Built on an entirely new concept, at least in the city, Mystery Rooms in Rajouri Garden (and other locations) is perfect for groups. The idea is live-escaping a room with the help of clues and teamwork, complete with audio and visual effects to enhance the experience.
Glued Reloaded
While Glued in Noida is more for those looking to have a good time than gaming veterans, the variety of games it offers—from table tennis and PlayStation games to snooker and bowling—makes sure there's something for everyone here. And it's open till 4am!
Smaaash
Built on a humongous 47,000 sq ft of floor space, Smaash in Gurgaon hosts plenty of games you won't find anywhere else in the city. We especially like their virtual reality simulators, where you can step in the shoes of a soccer goalkeeper or cricket bowler, and play your favourite sports in real time. 9D extreme gaming, twilight bowling and dance off are some of gthe many games they offer.
Lucky for us, they've even got outlets in Delhi and Noida.
Oh My Game
Oh My Game in Gurgaon has a giant laser tag arena equipped with super technology and wacky effects. In addition to laser tag, they've hot Bounce Football (where the player's upper body and head are trapped in a zorb-like bubble) and Duck Throw Basket. Also, expect to find a bunch of crazy arcade games here that will inspire a wave of nostalgia.
Escape Rooms
Escape Rooms in Hauz Khas offers real-life escape games where you're locked inside a room with clues, objects and tasks. Your aim? To crack all the codes and get out of a room within 60 minutes. At they moment, they only offer escape games with two themes - Battle of Thrones (GOT-themed) and The Quarantine Zone.
The Gaming Vegas
Noida's Gaming Vegas offers a world of amazing entertainment options. They've got various sections like a bowling alley for kids and a separate one for adults, a section full of PlayStation VR and arcade games like Kung Fu Panda, Jurrasic 3D Adventure, Star Wars Pod, and more. Air Hockey and a 3D theatre dome are some of the other things you can find here
Yes Minister
Yes Minister in Adchini promises a world of fun and an elaborate food and cocktail menu. The six-lane bowling alley is hands down the star attraction here. They've also got two pool tables, air hockey, foosball, basketball, boxing, Alien Attack (it'a video game) and a mechanical bull ride.
X Pins Down
X Pins Down is a new sports bar in Punjabi Bagh that's got a bowling alley, VR gaming (expect everything from boxing to killing zombies), a pool table and arcade games. What's more? A racing simulator which moves and vibrates according to how you drive in the game and an old school basketball arcade game. They've also got a bar and delicious finger food to munch on.
Comments