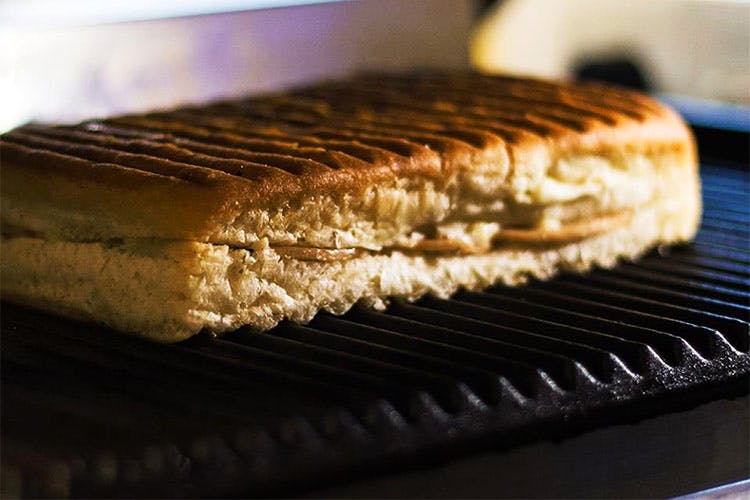 Love Italian And Cosy Places? Have A Little Taste Of Italy At This New Panini Joint At Galleria
Shortcut
At first glance it seems like the couple of tables at Tiny Tuscan are best used to wait while your Italian meal is being packed but if you like cosy spaces then stay on and eat at the café itself, mainly because a panini like theirs is best had piping hot off the panini press!
Have A Taste Of Puro Italian
Pretty pure Italian we must say and for this kind of pricing, pretty affordable too! Pick a Stromboli to start with, which is a bread turnover that comes in a variety of fillings and at Tiny Tuscan you can choose from Truffle scented Mushrooms to Chicken Parmesan, which is pretty close to how the Italians enjoy a Stromboli. Even with all the delicious carbs everywhere, the Panzanella Salad here is awesome, add grilled chicken for extra protein and then move on to the Paninis, what they're best known for. Our favourites include the Quattro Formaggio, four cheese panini, a combination of cheddar, mozzarella, brie and blue cheese, if that's too much for you then try the Caprese, fresh tomatoes, mozzarella and basil pesto. For meat eaters, the must haves include the Tuna Melt with mustard mayo and bell peppers and the Lamb a la Pizza with lamb pepperoni, pizza sauce and mozzarella cheese.
Pasta And Pizza Made Only For You
Panini isn't all they do, their pizzas are totally customisable, choose the number of toppings and make your own pizza. In pastas the choices are simple, basil pesto, arrabiatta, creamy parmesan and tomato cream, so we suggest you keep your appetite for dessert, you could try a Nutella Panini or go straight for an all-out delight like Tiramisu. They also have a Lemon Pie and one of the few cafes that serve a Butterscotch Cannoli, deep fried Italian pastry filled with nuts and butterscotch cream.
So, We're Saying...
Don't judge a café by the covers. Tiny Tuscan may be tiny but it packs in those hearty Italian flavours, from salads to desserts.
More Information
Tiny Tuscan
Wi-Fi Available

Nearest Metro Station: IFFCO CHOWK
Comments