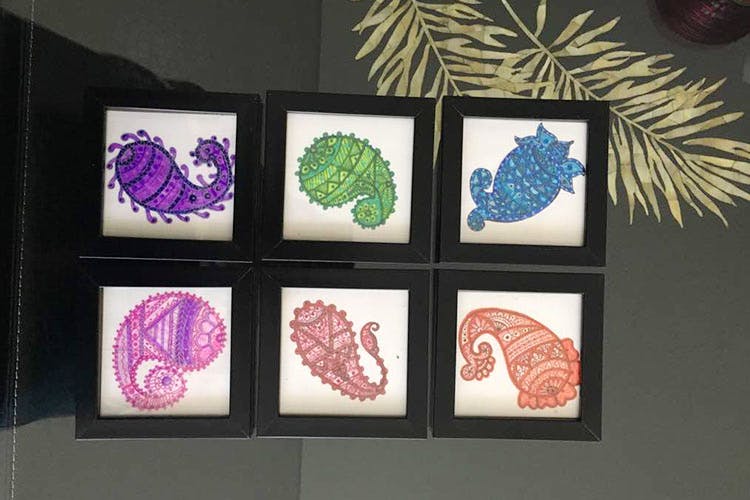 Made By A Gurgaon Mom, These Hand-Painted Trays & Coasters Look Really Professional
Shortcut
Gurgaon's brimming with home-preneurs that are creating beautiful products – case in point, hand-painted trays and coasters by Vibha M Dua.
Trade In Your Trays
We chanced upon Vibha's collection at an exhibition in Gurgaon and were drawn to the colourful, intricate patters that are painstakingly hand-printed onto trays and coasters. Peacocks, flowers and Koi fish, she's inspired by nature and its beautiful designs. Each one of her pieces is marked by the aesthetically-pleasing use of bright colours and we think that these would make lovely additions to your kitchen and dining table.
What We Loved
Her artsy coasters are not only gorgeous but also easy on the pocket – a set of six will set you back by INR 1,200. Vibha's stock runs out really fast so if you've fallen in love with her pieces, like we did, give her a shout and fix up a time to drop by.
The frames compliment the art work on the trays really well, so that these end up looking like high-end pieces, not the work of one gifted painter.
So, We're Saying...
Creative Spaces, run by Vibha, doesn't have a Facebook page so the best way to get in touch is via a phone call; prices of the trays start at INR 1,000.